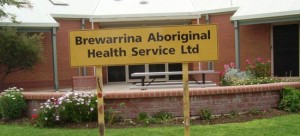 The Brewarrina Aboriginal Health Service Ltd (BAHSL) is a fully independent health service that caters to the needs of the community and the outlying towns including Goodooga, Gongolgon, Weilmoringle and Angledool.
Brewarrina is a small town (population 1121 in the 2006 Census) in North West NSW on the banks of the Barwon River. The ancient fish traps in the river near the town are one of the area's main tourist sites. These fish traps are made from stones that form small channels and are thought to be at least 40,000 years old – possibly the oldest surviving human-made structure in the world.
The ready availability of fish made Brewarrina one of the great inter-tribal meeting places of pre-European eastern Australia. The area was once the meeting ground for over 5000 people and the town is located amid the traditional lands of the Ngemba, Muwarrari and Yualwarri peoples.
Brewarrina is 98km east of Bourke, 133km west of Walgett on the Kamilaroi Highway, and 808km from Sydney.
The Brewarrina Aboriginal Health Service Ltd is an independent non-profit organisation that relies on public support from individuals, community groups, corporations, trusts and foundations, as well as government funding to continue imroving the health and well being of clients and community.
BAHSL Manager Hellen Mannix says the centre's services include: clinic team, counselling, diabetic education, exercise physiology, nutrition, podiatry, reproductive and sexual health, ultrasound, women's health and substance use services.
"We are an independent health service, under the auspices of Walgett Aboriginal Medical Centre," Hellen says.
"We also target chronic diseases such as diabetes and cardiovascular disease here. We have run a smoking cessation program.
The BAHSL recently held an Open Day to showcase their services and it was a great success. The centre threw open its doors last week and played host to a variety of service providers from around the region.
"I was thrilled with how many service providers showed up, particularly from outside the community. This Open Day is an annual event designed to showcase what services are available to the community," Hellen says.
Some of these providers included a Sexual Health nurse who visits Brewarrina every Tuesday as well as Diabetic Co-ordinator and Educator, who visits Brewarrina every Friday and is available for home visits. The women from the Lightning Ridge Safe House were also on hand, as well as a representative from Guide Dogs NSW. There was also a BBQ on the day.
Brewarrina Aboriginal Health Service Ltd is located at 5-7 Sandon Street, Brewarrina. Contact them on (02) 6839 2150 or visit www.bahsl.comau