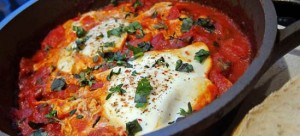 A cheap, simple meal for the whole family, 'shakshouka' is low in fat and rich in protein, vitamins A and C, and minerals, such as potassium and magnesium. Also called Moroccan Eggs, shakshouka is very common in North Africa and the Middle East, such as in Israel where it's eaten for breakfast. Traditionally the eggs and sauce are baked in the oven and served in an iron pan, but here we've poached them in the sauce on the stovetop. Serve with a big chunk of fresh wholemeal bread to soak up the delicious sauce.
Serves 4
INGREDIENTS
 1 tablespoon olive oil
 2 cloves garlic, finely chopped
 1 onion, diced
 1 capsicum, diced
 2 cans diced tomatoes
 2 teaspoons paprika, or to taste
 pinch black pepper
 4 eggs
 Chopped parsley (optional)
 Flatbread (optional)
METHOD
1. In a deep pan, heat the oil, then add the garlic, onion and capsicum. Cook, stirring, for about 5 minutes, or until the onions start to turn gold.
2. Stir in the tomatoes, paprika and pepper, then simmer over a low heat for around 20-30 minutes, stirring occasionally.
3. When the sauce starts to thicken, make four "holes" in the sauce and pour an egg into each hole. Continue cooking until the eggwhites cook and become solid, about 3-4 minutes.
4. To serve, spoon each egg into a bowl then pile the sauce around the egg. Garnish with chopped parsley and serve with pieces of Turkish bread.