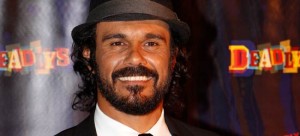 Actor Aaron Pedersen looked very much at home co-hosting the Deadlys this year. In his trademark suit and tie, and with the addition of a hat and beard, he looked relaxed in a role that's a far cry from his character, Detective Senior Constable Duncan Freeman, on the TV crime drama City Homicide.
City Homicide finished on the small screen in March, although Pedersen finished filming in November last year. Since then he has done two feature films, including Bad Karma, a thriller starring Ray Liotta, and a two-part miniseries. He's enjoying the variety of roles since City Homicide.
"I've played a wide range of characters and that's been good because I get to challenge myself as an actor," he said.
Aaron describes himself as an Indigenous artist in the mainstream, but hosting the Deadlys was important to him because it gave him the chance to "belong to my bigger family and community".
"It's important to support the Deadly Awards. They've been going for 17 years and they provide a platform to acknowledge Indigenous people in the mainstream," he said.
"The Deadlys are being watched more and more by the mainstream, and they fill the need to recognise the insurmountable talent out there. They are a platform where we can launch that talent. Look at the Marngrook Footy Show, which is an Indigenous version of mainstream football shows. It's now on ABC2.
"I also wanted to support the producer of the Deadlys, Gavin Jones, and help make this year's awards as Deadly as they can be. Our strong community values have largely gone unnoticed, but he's pushed it every year. Now I think the Deadlys are a bit of a runaway train, as mainstream audience tune in."
As well as co-hosting the event with singer Casey Donovan, Aaron also picked up the award for Male Actor of the Year in City Homicide. He was up against some stiff competition in Aaron Fa'Aoso (East West 101); Dean Daley-Jones (Mad Bastards); Richard Green (Snowtown); and iconic stage actor Jack Charles (Jack Charles v The Crown).
It was a humbled Pedersen who accepted the award, paying tribute to the finalists in the category, but particularly to Jack Charles.
"I dedicate this award to you. I have a career because of people like you, and it's an honour to be nominated with you," he said.
He also thanked his brother Vinnie for his support and also "my people back in Alice Springs".