VERNON AH KEE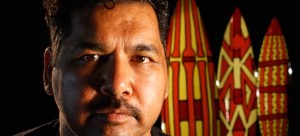 Screen-printer, drawer, photographer, video and text-based artist, Vernon Ah Kee was born in Innisfail in far north Queensland. He is of the Kuku Yalandji, Yidindji and Gugu Yimithirr peoples of Innisfail. He is largely self-taught and has always been a keen drawer, but it was not until the final year of his Bachelor of Visual Arts (Contemporary Indigenous Australian Art) at Queensland College of Art at Griffith University that he began to seriously view himself as an artist. Ah Kee's first solo exhibition was If I was White in 1999 and in 2003 he was invited to participate in Queensland Art Gallery's exhibition Storyplace, Indigenous Art of Cape York and the Rainforest. In 2004 he showed Fantasies of the Good, and produced his first video work for ArtTV/2004. In 2007, Ah Kee participated in Sunshine State, Smart State at Campbelltown Arts Centre. Ah Kee's work, including portraits and text work, was also included in Culture Warriors, for the National Gallery of Australia.
MERV BISHOP
Mervyn Bishop was born in 1945 in Brewarrina NSW and is an Australian news and documentary photographer. Joining the Sydney Morning Herald as a cadet in the early 1960s, he was the first Aboriginal Australian to work on a metropolitan daily newspaper. In 1971, four years after completing his cadetship, he was named Australian Press Photographer of the Year. In 1991 he had his first solo exhibition, In Dreams: Mervyn, Thirty Years of Photography 1960 to 1990, at the Australian Centre for Photography. Merv produced a one-man performance piece, Flash Blak for the 2004 Message Sticks Festival at the Sydney Opera House and also worked as a stills photographer on Rabbit-Proof Fence. His work is held in the collections of the Art Gallery of New South Wales, The Australian National Maritime Museum and The National Gallery of Australia.
RICHARD BELL
Richard Bell is a Brisbane-based artist born in 1953 in Charleville, south west Queensland who has established a reputation as a political commentator. In 2003, he was awarded Australia's top Indigenous art prize – the Telstra National Aboriginal and Torres Strait Islander Art Award. Richard's long-standing career follows a path of engagement in the Aboriginal arts industry which began in the early 1970s. His work is often confronting yet provokes discussion surrounding contemporary arts practice and Indigenous issues. The artist's international exhibition Richard Bell: Uz vs. Them toured North America as part of QIAMEA's 2009/10 Arts Partnership Program. He has taken part in a number of group exhibitions and his work is held in major public galleries including the National Gallery of Australia, and the Art Galleries of NSW, Victoria and of Queensland.
BRENDA CROFT
Gurindji photographer and curator, Brenda Croft was born in 1964 in Perth, WA. In 1985, she received a Bachelor of Fine Arts (Photography) from the Sydney College of Arts, University of Sydney, and in 1995 was awarded her Masters of Art Administration, from the College of Fine Arts, University of NSW. In 1987 Croft, along with nine other Indigenous artists, co-founded Boomalli Aboriginal Artists Co-operative in Sydney and in 1990 she became Boomalli's General Manager. She has also worked as a curator at the Art Gallery of Western Australia and the National Gallery of Australia. Brenda has been included in a number of key exhibitions including Half Light: Portraits from Black Australia at the Art Gallery of NSW, Photgraphica Australia at the ARCO Spanish International Contemporary Art Fair, Madrid and Retake at the National Gallery of Australia. She is a five-time finalist at the Telstra National Aboriginal and Torres Strait Islander Art Awards.
BROOK ANDREW
Brook Andrew was born in Sydney and is of the Wiradjuri people of NSW. He is a multidisciplinary artist who uses words and images displayed on signs, billboards and flags to recast Indigenous and non-Indigenous language into a social commentary on being Aboriginal in contemporary Australia.. His other art works include digital photography and sound, film, neon, performance and other multi-media art works. Brook completed a Bachelor of Visual Arts at the University of Western Sydney in 1999 and a Master of Fine Arts by research at the Canberra School of Art, Australian National University. He held his first solo exhibition Livin' It Up at Artspace in 1993 and has participated in numerous group shows since 1992. He has been the recipient of several grants and awards, including in 1997 a New Work Grant from the Visual Arts Craft Fund of the Australia Council. In 2004 Brook's Tensio (Currawongs and snake) won the Works on Paper section of the 21st National Aboriginal and Torres Strait Islander Art Awards.