Move it Mob Style® – NITV
Move It Mob Style®, Australia's latest dance-based youth, health and fitness TV show is all about showcasing young Aboriginal and Torres Strait Islander people's culture through dance and music.
Broadcast on ABC 3 and NITV, in each episode Australia's leading Indigenous dancers across a range of dance styles and genres run the audience through the steps of a new dance routine. The show also features short stories focusing on health, education and wellbeing, shot on location in Indigenous communities around the country. Move it Mob Style® has been produced by Vibe Australia with support from the Australian Government, through the Department of Health and Ageing.
Living Black (SBS)
Australia's premier Indigenous current affairs program, Living Black provides timely, intelligent and comprehensive coverage of the issues affecting Aboriginal and Torres Strait Islander Australians. The half-hour show reports many stories largely ignored by the mainstream media. The program also informs a wider audience about contemporary Indigenous issues and why they matter to all Australians. Karla Grant maintains her on-air presence as host, while also working behind the scenes as Executive Producer. The Living Black team is made up of passionate and enthusiastic individuals committed to two things: giving all Australians a place to learn about Indigenous issues and giving Indigenous Australians a chance to speak their mind.
Barefoot Sports (NITV)
Barefoot Sports is a new NITV sports program hosted by Brad Cooke. The show is jammed packed with sporting stories, scores and updates, highlighting all the action and news from the grassroots level, through to national and international sport. Brad Cooke leads the all-star panel which includes the likes of Luke Carroll, former NRL star David Peachey and Aboriginal sporting icon Claude Williams each week as they tackle the good, the bad and the deadly in Indigenous sport.
Yamba's Playtime (Imparja)
Yamba's Playtime is a 30-minute variety style program for children and includes music, songs, dance, stories and tales about activities in the life of 'Yamba the Yerrampe' (honeyant). Produced and aired by Imparja Television, it has a viewing audience of around 420,000 people and has been entertaining audiences throughout remote Australia for 16 years. The program's producer, Julie McAllan, is a singer/songwriter and former early childhood teacher. In 2009, series one was granted a Pre-school Classification – the first time an Indigenous themed pre-school program had been granted this in its 30-year classification history. History was made again when the Yamba's Playtime one-off Christmas special was broadcast nationally on the Nine Network.
The Straits (ABC)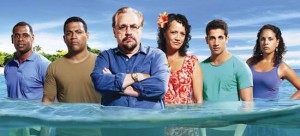 The Straits is an Australian television drama series for ABC1 filmed in Cairns, the Torres Strait Islands and other Far North Queensland locations. The series was based on an idea by Torres Strait Island actor Aaron Fa'aoso and produced by Penny Chapman and Helen Panckhurst from Matchbox Pictures. It is directed by Peter Andrikidis, Rachel Ward and Rowan Woods, and written by Louis Nowra, Blake Ayshford, Nick Parsons, Kristen Dunphy and Jaime Browne. The series follows the Montebello family, whose business involves an illegal smuggling racket. When Harry Montebello, the head of the family, starts to plan his succession, he sparks a vicious family power struggle.