YUNG WARRIORS
Melbourne-based Hip Hop duo, The Yung Warriors, come from a great musical lineage. Tjimba Possum Burns and his brother Narjik Day Burns are the sons of Selwyn Burns of legendary Indigenous band Coloured Stone. They've supported the likes of Akon, 50 Cent, The Game and Outlawz, In 2012, the duo released their second album, Standing Strong, featuring the hit single Just A Thought.
KNOWLEDGE BONES
Growing up in Western Australia, Knowledge Bones was spellbound by music from an early age, embracing a diverse range of artists, from Cold Chisel, to Midnight Oil, Michael Jackson, UB40 and Bob Marley. He later discovered Talib Kweli, Linkin Park, Ice Cube, Notorious BIG and 2pac, among others, and his skills were soon recognised. Knowledge has earned performing slots with the best in the business and in 2011 released the album Eyes on the Prize featuring the single Yeah Dard.
SKY'HIGH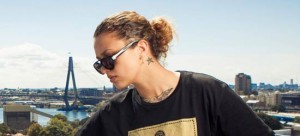 Sky'High (Skhai Gerry), of mixed Scottish, Aboriginal and Fijian background, raps about her upbringing in Sydney in her unmistakable style which is generating a buzz throughout the Australian Hip Hop community and earning respect from her peers, who voted her Best Female MC at this year's OzHipHop.Com Awards.
BRIGGS
From the moment Briggs dropped his self-released debut EP, the brilliant and groundbreaking Homemade Bombs (2009), it was obvious to everyone that this marked the arrival of a powerful and unique voice on the scene. Powered by a rapid-fire, melodic, direct approach, Briggs was as funny as he was deep. All this has paved the way for the imminent release of his debut album, The Blacklist. Briggs got a bit of help making it from a few of his hard-hitting colleagues. Guest vocalists include Hilltop Hoods, Trials and Dylan Smith (of Direct Influence).
MAUPOWER
Born Patrick James Berend Mau on Thursday Island, Maupower released his first recordings on the EP Untouchables in 2001. Determined to take his music to the next level, in 2003 he studied business in music at South Bank Institute of TAFE, before releasing the EP Jump Start in the same year. After returning to the Torres Straits he formed One Blood Hidden Image in 2004. The Anthem EP was released in 2005, followed by the Shut the Gate 2008 Ultimate Collector's Edition. One Blood Hidden Image is a group of five young Torres Strait Indigenous hip hop artists. Maupower has recently released a solo album Two Shades of Grey.