Mabo
Marking the 20th anniversary of the historic High Court decision, the film Mabo, which aired on the ABC in June 2012, retold the story of one of Australia's national heroes: Eddie 'Koiki' Mabo – the Torres Strait Islander who spearheaded the High Court challenge that once and for all overthrew the fiction of terra nullius. Mabo is also the tender love story of Eddie and Bonita – the woman he met as a teenager, and loved over three decades and the raising of ten children. Written by Sue Smith (Bastard Boys, RAN, Brides of Christ), and directed by Rachel Perkins (Bran Nue Dae, First Australians, One Night The Moon), in research, writer Sue Smith spent extended periods of time with the Mabo family. MABO features an outstanding ensemble cast including Jimi Bani (The Straits, RAN) as Eddie 'Koiki' Mabo and Deborah Mailman (Offspring, Rush, The Secret Life of Us) as his wife Bonita.
Freedom Rides
40 Years On
In 2005 a group of young people and members of the volunteer youth network ReconciliACTION hired a bus to re-trace the historic Australian Freedom Ride through regional NSW. The 2005 Freedom Ride was initiated by students from the University of Sydney, volunteers and activists. Working with Local Reconciliation Groups, Aboriginal organisations, councils and community groups, the 2005 Freedom Riders organised a series of community events and conducted interviews in the 13 towns visited by the original Australian Freedom Ride, to find out how people felt race relations had changed in the past 40 years. Their journey, experiences, conversations and discoveries are captured in the documentary film, Freedom Rides 40 Years On, produced by Oliver Lawrance and ReconciliACTION.
The Tall Man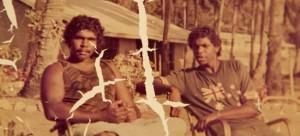 The tragic story surrounding the 2004 death of Cameron Doomadgee, while in custody, is presented in the hard hitting documentary film, The Tall Man from director Tony Kawitz. As well as the events leading up to the death of Cameron Doomadgee, The Tall Man explores the complexities of racial politics in Queensland, its people and its justice system. The film also tells the story of the strength and dignity of the Doomadgee family. They refused to give up their legal fight, assisted by their lawyer Andrew Boe. The family have faced untold tragedy but remain steadfast and unified in their struggle for justice. Atmospheric, gritty and original, The Tall Man takes the viewer into the courtroom, into the once notorious Queensland police force, and into the Indigenous community of Palm Island of Australia's Far North.