JESS BECK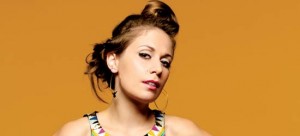 Originally hailing from Mingbool (near Mt Gambier, SA), Jess drifted into singing while studying acting at Adelaide University, but she admits music was always her first love. Jess wanted to be a performer from an early age. While studying a Bachelor of Creative Arts (Acting) at Flinders University, Adelaide, she developed an interest in jazz and cabaret. She auditioned for a band, which later became the Jess Beck Quartet. Jess released her debut album Hometown Dress earlier this year. It is a combination of jazz, folk and Indie pop. Since then, she and her band have been busy playing gigs around Sydney and building up a loyal following. She is writing more songs with her band, as well as working as a project coordinator at the Sydney Opera House.
CASEY DONOVAN
Casey studied music at the Australian Institute of Music before becoming the youngest winner of Australian Idol at age 16. After Australian Idol, Casey re-established herself as a solo artist and released her EP Eye 2 Eye. In 2009, Casey made her theatrical debut in Miracle in Brisbane for the Brisbane Festival. Casey received rave reviews for her role in The Sapphires in 2010, as presented by Company B Belvoir and Black Swan State Theatre Company. Casey has been busy over the past two years, trying her hand at everything from solo shows to musical theatre and even Shakespeare's As You Like It by Company B Belvoir. One of her recent incarnations was as '60s pop crooner Cass Elliott from the musical Flowerchildren. Casey has since incorporated Mama Cass' songs into a new show, Mama Cass: The Tribute Concert, which she toured this year. She has also recently headed back into the studio to record another album.
JESSICA MAUBOY
Jessica Mauboy first graced Australian television as a shy 16 year old on Australian Idol in 2006. She was runner-up that season, but was subsequently signed to Sony Music Australia. In February 2007 she released her debut LP, The Journey, and in 2008, recorded her album Been Waiting which achieved double platinum sales, garnered seven ARIA award nominations and produced her first number-one single Burn, as well as the album's other top-10 hits, Because and Running Back. In 2010 she released her second studio album, Get 'em Girls, which debuted at number six on the ARIA Album Chart. The album features the top-10 hit Saturday Night, with American rapper Ludacris. Her new single Gotcha – from the film The Sapphires in which she also stars – was released on July 13.
CHRISTINE ANU
Throughout her remarkable career, Christine Anu has become one of Australia's most successful Indigenous performers as well as one of our most popular recording artists, but she has also been involved in theatre, dance, film, television and children's entertainment. Christine Anu has produced platinum and gold selling singles and albums. Nominated for 16 ARIA Awards, and the winner of four, Anu's ARIA nominations include Song of the Year in 1995 for 'My Island Home' and Best Female Artist and Best Album in 1996 for Stylin' Up. She is also an eight-time Deadly Award recipient. Born in Cairns to a Torres Strait Islander mother from the Saibai and Mabuiag Islands, Anu performed as a dancer before joining The Rainmakers with Neil Murray, founder of the Warumpi Band. Following her recording debut on the Paul Kelly single Last Train, Anu's debut album Stylin' Up produced numerous hit singles including Monkey and the Turtle, Party, Wanem Time and the beautiful My Island Home, the song that was to become her signature tune. This year she released a new album called Rewind (The Aretha Franklin Songbook).
EMMA DONOVAN
Emma Donovan has established herself as one of Australia's finest Indigenous singer/songwriters with her traditional language Gumbayngirr featuring in her songs. Originally from Northern NSW, she became a founding member of Stiff Gins in 2000, leaving the band three years later to release the solo album Changes in 2004. Emma has since performed across the globe treating audiences to her rich soulful voice as a solo artist, and as part of the award winning Black Arm Band. In 2009, Emma released a five track EP called Ngarraanga (Remember), her tribute to the Stolen Generations. She won Best Female Artist and Best R&B Single at the inaugural 2009 BUMP Awards for Ngarraanga, which was also nominated for two Deadly Awards that year. Emma has appeared in various documentaries. The documentary Gumbayngirr Lady featured Emma, and was filmed and aired on SBS in 2004 as part of their BLAKTRAX series. She is currently writing songs for a new album.