MICROWAVE JENNY
Brendon Boney and Tessa Nuku (Microwave Jenny) first crossed paths while rehearsing for the Schools Spectacular Show in 2005. Since then, the folk duo have released two EP's, Mr Man in the Moon and Chasing You. Both sing, while Brendon also plays acoustic guitar. The pair has toured widely, appearing at festivals such as The Dreaming and Byron Bay Blues and Roots Festival.
THE LAST KINECTION
The Last Kinection (TLK) is a hip hop trio from Newcastle, comprising of Joel Wenitong (Weno), Naomi Wenitong and Jacob Turier (DJ Jaytee). Their debut album, Nutches, was followed by The Next Of Kin in 2011 which featured the Deadly Award winning Single of the Year, Happy People. TLK have played at major festivals throughout Australia including The Peats Ridge Festival, The Dreaming, Groovin' The Moo, the Field Day Festival, the Sydney Festival and many more.
THE MEDICS
Formed in Cairns, the Medics got their first break as guests on the Groundswell Tour in 2009. Their debut EP This Boat We Call Love was released in 2010. Their latest album, released this year, is Foundations. The Medics are a tight-knit group of friends and family, consisting of Jhindu Lawrie, Charles Thomas, Andrew Thomson and Kahl Wallace. They are also mentored by Jhindu Lawrie's father, Bunna Lawrie, from the legendary band Coloured Stone.
BUSBY MAROU
Busby Marou (Tom Busby and Jeremy Marou) released their debut self-titled album in June 2011, which contained their first single Biding My Time. Busby Marou also took out the 2009 Deadly Award for Most Promising New Talent in Music and a Q Song Award for their song Paint My Cup. 2011 was an eventful year for the duo with the release of their debut album on top of signing with major recording company (Warner Music) and embarking on a national tour.
B2M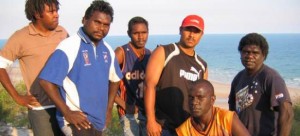 B2M (Bathurst to Melville) is a six-piece band from the Tiwi Islands, which formed in late December 2004 in their hometown of Nguiu. The band is made up of young Indigenous men who sing about issues like drug abuse, alcohol and suicide. In the words of lead vocalist Jeffrey Yellow Simon: "We are giving the kids a voice through music." B2M's first EP, B2M – Live at The Monsoon Sessions is a live acoustic set recorded at Gurrumul's CD launch in Darwin. It was released in 2008. Later that year B2M won the coveted Emerging Artist of the Year at the NT Indigenous Music Awards. In April 2011, B2M released their first official track Japparika – the Tiwi Bombers' football anthem, which has since sold extremely well through ITunes.
YABU BAND
Originally from Kalgoorlie, multi-talented brothers Delson and Boyd Stokes have been playing music together since the age of five. Their most recent musical offering, The Yabu Band (Yabu means Rock/Gold in the Wongatha language), has been described as desert rock/reggae and also features Jade Masters on drums. Their album, Gundulla – We Dance, merges traditional Dreamtime stories with memorable contemporary melodies and includes a cover of the song I am Australian into their Western Desert language. Yabu have just released their single Petrol, Paint and Glue to acclaim in 2012.