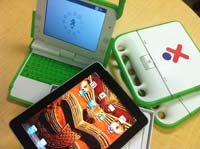 Technology has changed rapidly in the last 20 years, with the speed of computers doubling every two years.
Many people are now using mobile devices like XOs, PSPs and 3G phones to draw or paint, make movies about their lives and communities, record their own music and to learn more about the world.
Recognising the potential to improve learning outcomes for Indigenous students, particularly those in remote communities, the Queensland Department of Education and Training's Division of Indigenous Education and Training is organising a conference in Cairns on 16-17 September called Learning@hand.
The conference will showcase the leading work that's already occurring in schools and give teachers of Indigenous students, as well as students themselves, the chance to share knowledge about successful approaches to mobile learning.
Speakers will include leading Indigenous thinkers and educators, such as Dr Chris Sarra, Victor Steffensen and Theresa Feletar, as well as teachers and school workers.
The event is open to anyone who is interested in advancing learning in schools that have significant Indigenous enrolments. For more, visit www.learningathand.info
Work that students have created using mobile devices will be on display.
Deadly Vibe is running an "Art Competition" where students can also enter their digital art and go in the running to win an art set – more details are on page 5 in this month's Deadly Vibe magazine.