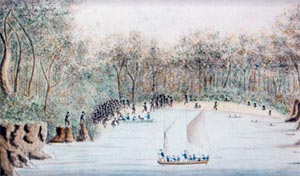 The City of Sydney has made headlines after announcing its landmark decision to replace the term "white settlement" with "invasion" in the preamble of its Corporate Plan for the city.
The push to change the wording was made by the City of Sydney's Aboriginal Advisory Panel, who would also like the term "invasion" to be used in Australia's preamble to the Constitution.
"I think we have to tell the truth about what happened, that's why [the word invasion] has a rightful place in any preamble to do with Aboriginal and Torres Strait Islander people, it should be included," said Christopher Lawrence, a member of the Advisory Panel.
The wording debate ties into a larger issue, one that involves differing versions and perceptions of Australian history, and is convoluted by the absence of any original Treaties, as well as political agendas and potential legal ramifications.
The long-standing account of Australian history in regards to early contact between Indigenous people and Europeans – the one widely taught in schools and universities for most of the last century – was that Europeans "settled" peacefully and that Aboriginal people offered no or very little resistance.
In time, a more rounded version of events emerged. As Aboriginal people became less marginalised, their own accounts of history began to be considered and documented. Historians such as Henry Reynolds began to challenge the peaceful settlement myth and were, in turn, accused by other historians for endorsing a 'black armband' view of Australian history.
Today, it is widely accepted that various Aboriginal people did indeed "fight back", and that European "settlement" in certain parts of the country was anything but peaceful.
While this ideological shift has occurred to varying degrees, it has yet to be reflected in the country's most symbolic of documents, the Australian Constitution, which is why the City of Sydney decision is so significant.
Any such change to the Constitution is sure to be met with a great deal of public debate, which will reveal just how far public consensus on the issue has shifted.
There are some calls that including the word "invasion" in the preamble would be counter-productive to the reconciliation process.
"Reconciliation and progress can only be built on language that unifies us, not language that divides us," said NSW Aboriginal Affairs Minister Victor Dominello.
In 2008, former PM Kevin Rudd made the significant and symbolic gesture of delivering a formal Apology to the Stolen Generations as a fundamental step in the reconciliation process.
Would not a similar recognition of the true nature of first contact between Indigenous nations and Europeans, written into the preamble of the Constitution, be just as important to that process?
Julia Gillard has promised a referendum on recognition of Indigenous Australians in the preamble, probably at the next election – but is any recognition valid or worthwhile in the continued absence of a formal Treaty, and where acknowledgment of the original dispossession of Aboriginal people from their land remains undone?