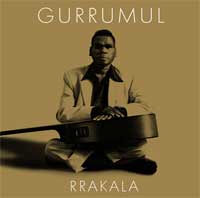 Today the eagerly awaited second album of Yolgnu artist Geoffrey Gurrumul Yunupingu titled Rrakala was released by Independent label Skinnyfish Music. Pre-album sales have raised expectations for this album with orders of 22,000 sold. This album follows his world renowned and critically acclaimed self titled debut double platinum album Gurrumul. The label promises more emotional depth with many traditional tracks of his Gumatj clan re-interpreted by Gurrumul.
The release of Rrakala coincides with the leaked NT news headlines that he will also appear of the cover of Australian Rolling Stone Magazine who have dubbed him "Australia's Most Important Voice."
To date Gurrumul will commence a promotional tour for Rrakala commencing on the 17th of April with the West Coast Blues and Roots Festival in Perth followed by performances at the Byron Bay Blues and Roots Festival on the 25th of April at Byron Bay.
Gurrumul links on the web
http://www.youtube.com/watch?v=8akLGKW1kD4