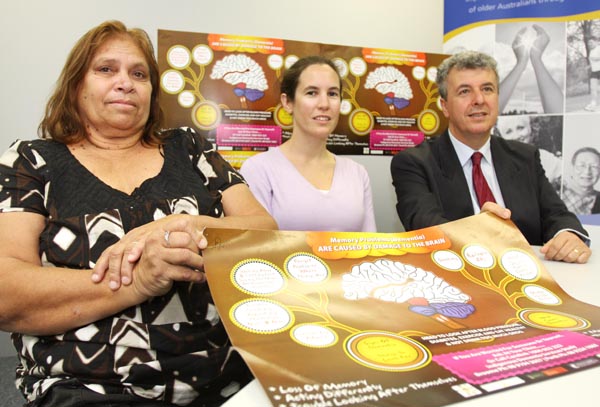 A study in the Kimberleys WA has found Aboriginals living in remote communities are five times more likely to develop dementia when compared to non Indigenous Australians, but the good news is that several of the risk factors can be prevented.
Conducted by the Western Australian Centre for Health and Ageing, the study focused on Aboriginal Australians aged over 45 years from six remote communities and one town in the Kimberley region. The Kimberleys were a natural location for the study given its vastness and isolation to mainstream services. The region also has the highest proportion of Aboriginal and Torres Strait Islander people in Western Australia, with more than 30 different languages spoken.
Researchers analysed factors associated with dementia including demographic: age, sex, education; lifestyle factors such as smoking, alcohol and chewing tobacco; and clinical factors: head injury, heart disease, hypertension, diabetes, previous stroke, epilepsy, falls, mobility, incontinence, urinary problems, vision and hearing.
Chief Research Investigator Dr Dina LoGiudice says prior to the Kimberley study which began in 2003, very little data was available on dementia in Aboriginals, particularly in remote communities.
"If you don't know what is happening in Indigenous communities or what the problems are, you can't plan for services," Dr LoGiudice says. "We now know there are associated factors with dementia in Aboriginals in remote communities and they include poor education, smoking, epilepsy, head injuries, strokes – these factors are more likely to increase the risk of dementia."
To obtain data, the research team in partnership with Kimberley communities, health workers and organisations, developed a culturally appropriate cognitive assessment tool which provided a holistic assessment of participants, collecting information from the participant and their caregivers on past medical history, smoking and alcohol, emotional well-being and daily living.
"We spoke to Aboriginal health workers and organisations and considered the language needs. The tool was trialled on 70 people and we did what was needed to locally validate the tool," Dr LoGiudice says.
Aboriginal community workers used the tool to screen participants and interpreters were employed as needed. Following the results of the assessment, specific participants were followed up with a review by specialist clinicians.
The results which were approved for dissemination by community councils show several risk factors for dementia in Aboriginals living in remote communities. Older age, males, no formal schooling, head injury, smoking, stroke and epilepsy are associated with high rates of dementia. Other factors that were associated included geriatric conditions such as falls, poor mobility and urinary incontinence.
"Some of these factors can be prevented," Dr LoGuidice says. "We can look at education, smoking programs, heart health and stricter management of diabetes. We now know what is required with regard to prevention. This knowledge should be important in planning services.
"The initial Kimberley study is being followed up with a five year longitudinal study and we will be also looking at any gaps, such as the effect of depression and obesity."
The study also investigated dementia carer needs in families and the needs of professional carers. "There were issues that were raised – people were seeking more community based control, so that the people in communities provided the care and were involved in decision-making," she says.
"We piloted a study looking at a community-based model of care in the Looma Community (located south east of Derby in Western Australia). The pilot identified the need for community consultation as a way of providing local input into services and decision-making."
There was also a need for a sustainable workforce of local Indigenous people and the need for education and training of carers, family, community members and staff.