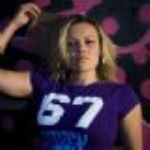 Nikki Ashby, aka Essentz or Miss DOO WOP, is a descendant of the Kaurna and Narrunga peoples from South Australia.
She has an outstanding professional background as a dancer, choreographer, director, actor, hip hop specialist and movement teacher.
She has over 20 years performance experience on stage and has outstanding credits in television, stage works, festivals and major Australian events.
Nikki choreographed and performed at the Dreamtime at the G AFL match opening ceremony, and co- choreographed the opening of The International Dreaming Festival. Nikki has performed and worked with dynamic Australia companies, including Bangarra Dance Company and ADT, and has diverse dance styles, including contemporary Indigenous, hip hop, latin, African and jazz.
Nikki has worked with and performed for young people in remote communities around Australia and hosted hip hop master classes for dance companies and community youth groups throughout the country.
She was also a top 40 finalists in Australia's first series of SYTYCD (So You Think You Can Dance) Channel Ten. Currently Nikki is director for The Movement Hip Hop Crew dance theatre, based in Melbourne and was most recently nominated as Dancer of the Year for the 2009 'Deadly' Awards.
On stage, Nikki has been the leading actor for two years running for Ilbijerri Theatre's successful national tour of Chopped Liver. In 2008 Nikki received the prestigious Indigenous Artist Of The Year Award by the Melbourne Fringe Festival.
Nikki has recently signed on as ambassador for Marie Stopes Australia Snake Condoms campaign and is the face of the Indigenous clothing label Black Apparel.