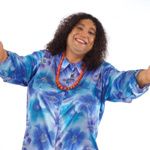 Mary G, is the self-effacing "Queen of the Kimberley" who is not only making us laugh but also making a difference. She recently received Amnesty International's Human Rights medal for her work in empowering the Indigenous community. No longer just a Kimberley product she is now a national icon after producing two TV series broadcast nationally on SBSTV. Mary has worked in Radio, TV, corporate video, live performances, workshops and public speaking.
Since emerging as a stage character, she has performed throughout the country taking venues by storm. She is also a singer with her band "The G Spots" and has released an album titled "Whaddayow". Her popularity as an alternative voice representing Indigenous Australia has led to her being invited to be a key note speaker at major events including the National Australia Day Council Meeting in Sydney. She was also invited to speak in response to Pope John Paul's second anniversary speech. She has been a firm favourite at national events and has delighted audiences at performances such as Mary G Live at the Horden Pavilion, Fox Studios Sydney; NAIDOC celebrations in Darwin; the Salamanka Festival in Hobart; Survival celebrations in Sydney, Reconciliation Week in Melbourne; Stompem Ground, the Dreaming Festival, the Tuderwulli Awards at the Sydney Opera House and the National Treaty Conference in Perth.
Some say Mary is the creation of artist/musician/entertainer/comedian/film maker/record producer Mark Bin Bakar; but this is unlikely because, as Mary says: "not that four-eyed fool".
Mary G is available as a celebrity speaker, to perform or MC your next event.