When talking to Indigenous broadcaster Brad Cooke about sport, almost any sport, he exudes passion and excitement. He's opinionated without being cocky, the result of many years of research and first-hand knowledge, and it's obvious he knows his stuff. Brad recently landed the prestigious lead commentator job, calling NRL games on ABC digital radio on Monday nights – the first Aboriginal person to do so. 
"I feel very proud to be the first Aboriginal to get this opportunity, but it's taken me 15 years to get here and I hope that a few more can come after me," says Brad. "I acknowledged country in my very first game, which I will continue to do, and a lot of people listening got a huge thrill out of that."
As a Bidjigal man growing up in La Perouse in Sydney, it's been a long journey to reach this level and Brad hasn't forgotten his struggle in the early days.
"Since I was about 10 I always wanted to be a sports commentator or a broadcaster, but I never really thought it was an achievable thing," he says. "However, when I was 25, Troy Garner, a Murri from Brisbane, offered me a reporting role on his program at 89.7 Sports. Eventually I got my own sports program called 'Game On' on Eastside Radio – and that's how I got my start in broadcasting".
Gadigal Information Services (Koori Radio) received its broadcasting licence in 2002, and in 2003 Brad was appointed as general manager, moving on in 2010. While at Koori Radio, he was part of the 'Sweet Science' boxing program in 2006 and in 2012 he was a panellist on the 'Black Gold Sports' show. Both these programs won Community Broadcasting Association of Australia awards.
In 2008 Brad joined NITV and hosted the Barefoot Sports show until 2013. He was also NITV'S lead commentator at the Imparja Cup from 2008/2011 and is still calling the Aboriginal Knockout rugby league competition after six years, which he believes is the most significant sporting event for Aboriginal people in NSW.
When NITV introduced a new series in 2013 called 'Away from Country', which focused on Indigenous sports stars achieving at the elite level of their chosen sport overseas, Brad travelled to Italy to interview Brendan Williams (Union), and the United States to interview Scott Gardner (Golf), Patrick Mills (Basketball), Jesse Williams (NFL) and Khalen Young (BMX).
"The highlight of my trip for sure was watching Scott Gardner in Hawaii, being the first Aboriginal golfer to tee-off in an American professional PGA tour event," he says.
Working in sports broadcasting for many years and from a uniquely Aboriginal perspective has allowed Brad to witness and help bring about some big changes in the culture surrounding the way our media and sporting talented are treated and represented.
"The biggest challenge for an Indigenous broadcaster I faced was in the early days when there was limited or no access to the stars," he says. "If you were not a commercial network like ABC or SBS, the sporting media managers didn't recognise what you were doing, so I basically had to go to the athletes directly for interviews. It was only about five or six years ago that media managers started to take us [Indigenous broadcasters] seriously.
"The majority of Indigenous athletes had never been interviewed before and a lot of them were overlooked because it was assumed they couldn't speak properly or couldn't do good interviews even though they were by far the best players. So I tried to interview them once a month to try to build up their confidence so that when they hit the big time they were ready to go out and do interviews."
Brad may have also found a calling as a circus performer considering the amount of successful juggling he does at the moment between his job as Regional Director at Jawun Indigenous Corporate Partnerships and his sports broadcasting gigs. With his versatile sporting knowledge, Brad would eventually like to progress to calling more than just rugby league.
"Who knows, the ABC is the public broadcaster for a number of sports and I'm not just a one sports guy. I'd like to think that I can easily call cricket, rugby union or boxing," he says.
If you want to tune in to Brad's NRL call just log on to the website and listen to the live stream at abc.net.au/grandstand or digital radio on the ABC radio app on your smart phone on Monday nights when the NRL is played in Sydney.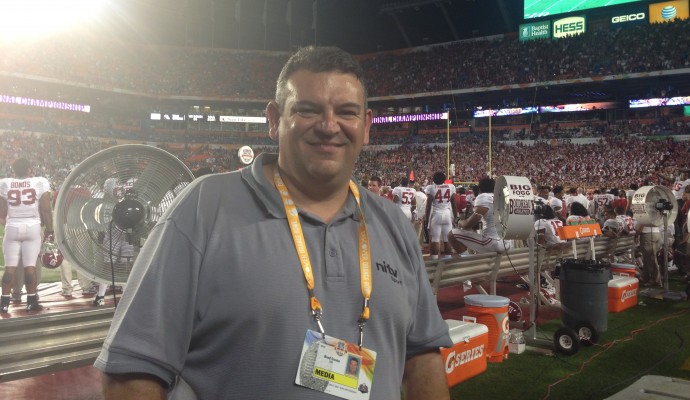 General footy Questions
Who is the best Indigenous NRL footballer right now?
Inglis/ Thurston.
Which emerging young Indigenous talent do you think could make an impact in 2014?
Tyrone Roberts/ Albert Kelly.
Who will be the standout Indigenous players in 2014?
Inglis/Thurston.
Who's the best Indigenous player you have ever seen and why?
Thurston/Cliff Lyons.
Who was your favourite player growing up?
Bradley Clyde.
Who is your tip for this year's Grand Final winner?
Souths.
Will NSW ever beat QLD?
Yes, when Inglis, Slater, Smith and Thurston retire.