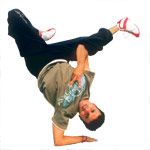 Bboy 2ezy is the lone Indigenous dancer in the country's number-one break dancing crew.
Indigenous break dancer Bboy 2ezy is on a roll at the moment. Not only did he pick up the 2009 Deadly award for Best Dancer last October, but he also performed earlier this year at the National Break Dancing Championships where his 'All Consciousness Crew' took out the national title.
"Yeah, it feels really deadly," says the explosive dancer when quizzed about being the only Indigenous member of the country's top crew, "especially after winning the Deadly last year. It's been a great few months for me."
Break dancing crews have been around as long as hip hop and breaking itself. These collectives of dancers are integral to the 'battle' culture of hip hop dancing, and provide the environment for breakers to learn, gain support, entertain on a new level and pit their skills against collectives from other areas and cities.
"I guess being part of a crew is about having that team there to always help you out, plus, when your performing with a group it's a lot easier," says 2ezy. "It's a lot better for the audience, too, when they see a group dancing, and also for the competition. Every town and city has their own crews – in some there's heaps – and that's why we made one: to battle and enter the same competitions as them."
2ezy's first breaking crew was the 'Unique Creation Mob' from his hometown of Mildura, and it was those fellas who first taught him how to break dance.
"We entered some competitions together and won a couple of them, plus we did a few performances around town and some workshops, which was good," he says.
Within the collective, 2ezy specialises in the more acrobatic and power breaking moves, showcasing varying combinations of flips and spins that have become his trademark.
"Everyone has their own styles and their own strengths. Basically in the crew each person has their own positions and roles, so some people focus on acrobatic moves and others focus on the popping and locking side of things, and I guess that's what makes up a crew."
After moving to Sydney five years ago, 2ezy bumped into local B Boy Scott Thompson, who was holding break dancing workshops at the Block in Redfern. The pair struck up a friendship and it was Scott who introduced 2ezy to the 'All Consciousness Crew'.
The crew was formed eight years ago, and has a diverse range of members with backgrounds ranging from Aboriginal to Australian, Irish and Filipino.
"Yeah, there's a really good mix there," he says. "There are a few crews out there with blackfellas, like mine for example, and there are starting to be more, but what breaking is really lacking at the moment is an all Aboriginal crew."
After entering their first National Breaking Championship in 2008 and being knocked out in the early rounds, the All Consciousness Crew were eager to return in 2010 and pit their skills against some of the county's top crews, such as 'Wicked Force' and the Melbourne based reigning national champions, 'Fresh Sox'.
"Over the last year, and especially the last few months, in the lead up to the championships, we hooked up a lot and trained a lot. Some of the guys made up routines and we made up some group routines, too. Everyone just made sure they were up to scratch and in shape," says 2ezy.
The hard work obviously paid off with the crew progressing all the way to the final where they won 2-1 over fellow Sydney crew 'SKB'.
"It's really up to you and your crew what you want to do," says 2ezy, explaining the competition process. "It can be solos or routines, and the three judges judge the dancers on their timing, rhythm, their ability to read the music, being on beat, their moves, how clean it is and everything right down to their stamina and confidence."
Off the back of their national title, 2ezy's crew has been scoring plenty of performance gigs around the city. They also opened the hip hop stage at this year's Sydney Festival in front of tens of thousands of spectators.
In between performances, 2ezy has been focusing on mentoring a new crew of Aboriginal breakers from inner Sydney.
"Scotty and I have just started a little Aboriginal crew of young kids," explains 2ezy.
"We've resurrected the 'Redfern City Rockers', which was one of the first Aboriginal crews that was in the scene. I didn't really know about them until I moved to Sydney, but I met a couple of the lads who use to be in that crew.
"We've got a few kids from the Redfern and Waterloo area. The youngest is about six and the oldest 14 and some of them have never break danced before. Now that we've done some workshops with them and choreographed a little routine they're doing it and enjoying it, and they're about to have their first gig in front of few hundred people at the Platform 3 Hip Hop Festival in Sydney this month."
Already the inspiration for countless young breakers around the country, with 2ezy's guidance, we can only expect more young Indigenous dancers to fill the country's top crews. Perhaps, one day, we'll even see an all Indigenous crew take out the national championships.
"It can happen for sure," says 2ezy. "That's one of my biggest dreams and the main reason I'm still in involved in breaking. It's definitely what we're aiming towards."