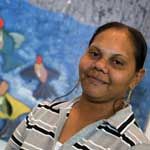 A groundbreaking exhibition of Indigenous artwork is making a real impact overseas.
Our Way: Contemporary Aboriginal Art from Lockhart River is an exhibition of 42 works by a group of artists formally known as the Lockhart River Art Gang.
This group of 24 artists were originally part of a Queensland government education and training initiative introduced back in 1994, which has since led to three artists gaining international recognition and a local Art and Cultural Centre, which sells hundreds of thousands of dollars worth of art every year, both here and overseas.
Our Way debuted at the University of Queensland in May last year and has since been shown at the National University of Singapore as well as Stony Brook University and the University of Virginia in the US.
The groundbreaking exhibition confronts and breaks down long-held stereotypes about Aboriginal culture and the realities of remote community life for Aboriginal people, but it also captures the spectacular beauty of life on the coast of the Great Barrier Reef.
The collection includes paintings, prints and sculptures which provide Indigenous insights into bushfires, coral reefs and rainforests of Sandbeach Country, 800km north of Cairns.
More information on the artists, artwork and the story behind the Lockhart River Gang can be found on the University of Queensland Art Museum website at www.maynecentre.uq.edu.au/index.html?page=67135