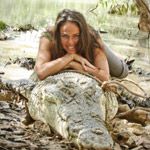 Filmmaker Darlene Johnson (Two Bob Mermaid, Stolen Generations, Gulpilil: One Red Blood, Following The Rabbit-Proof Fence, Crocodile Dreaming, River of No Return) tells how being healthy helps her creativity and gives her stamina for long days on the film set.
STATISTICS
Height: 164cm
Weight: 62kg
Age: 39
Mob: Dhunghutti from the North Coast of NSW
Occupation/s: Writer, director, producer of drama and documentary films
Nickname: Darls
Pets: A ginger manx cat called Elvis
Brothers and sisters: Two sisters and a brother
How did you get involved in film?
I entered a competition for emerging Indigenous filmmakers and was selected to make Two Bob Mermaid.
What do you love about filmmaking?
I love being able to tell my stories from an Aboriginal perspective and to express our culture, the way that we see things and feel things. I love sharing the stories with audiences and travelling with them. The great thing about film is that it can take you to so many different countries and cultures.
What does making a film involve?
First you come up with an idea, develop it into a script and find the right people to form a team/crew. Then you find ways of raising the money to go into production.
What's your favourite way to keep fit?
I love swimming. It's part of my creative process. It allows me to be free and dream up ideas for films. I also like to work-out at the gym to build body tone. I like to feel strong and healthy, so that I've got the stamina to do my job.
What is your typical weekly health-and-fitness regime?
I work-out at least four days a week for an hour and a half, doing cardio and gym. At other times I'll go for a long walk and swim 1.5km. I also meditate every day to clear my mind and create a headspace to begin each day anew. I strongly feel that it's all about having a healthy mind in a healthy body.
What do you eat in an average day?
First thing in the morning, I like to have freshly made juice, with carrot, beetroot, ginger and celery. I also like to have protein for breakfast, say eggwhites with rye toast, followed by half a cup of rolled oats with blueberries and soy milk. The protein gives me stamina and helps build my muscles, and the carbohydrates supply the mental and physical energy to help me get through the day. I try to stick to protein lunches, with vegies or salad and I nibble on nuts and fruit throughout the day if I get hungry. At night I love eating salmon.
Do you have a favourite cheat food?
My weakness is hot chips. If I have them I work them off straight away with a session at the gym, so I don't feel guilty about having them!
What advice do you have for youth on health and fitness?
Everything in moderation … Stick to a healthy regime, choose healthy food options and have one day off each week to treat yourself. That works for me.