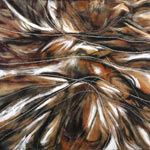 West Australian Indigenous artist Shane Pickett has won the inaugural online people's choice in the 26th Telstra National Aboriginal & Torres Strait Islander Art Award for his painting To Stand in a run off fresh water stream.
Telstra Art Award Coordinator Natalie Merida congratulated Shane on being the inaugural winner.
"Shane Pickett has been selected in the Telstra Art Award on eight occasions dating back over the last 26 years, he has had his work exhibited in every State and Territory in Australia and has works in major private and public collections across the country," Ms Merida said.
"The online virtual vote is the first in the history of the Telstra Art Award and offered visitors worldwide an opportunity to view the artworks in the virtual gallery and choose a favourite piece," Ms Merida said.
"Votes were received from cities and regions across Australia with votes cast from regional centres such as Coober Pedy and Byron Bay, to international countries from Spain, United States of America and France."
Many of the comments from online voters that selected Shane's piece pointed to the movement within the painting. "The painting is organic, full of life and movement … It grabs your attention and pulls you in … A powerful painting of movement, colour and form."
The winning artist describes himself as a painter of Nyoongar lands and states in his artist statement, "In my painting I have depicted the power of these healing waters, pushing forth from the rocks, just like the power of the Dreaming that lies beneath all things waiting to be discovered by those people prepared to look closely and respect nature," Shane said.
The two runner up winners, each receiving equal votes, were the Telstra Art Award winner, Canberra based artist Danie Mellor for his work Rite to Ritual and the People's Choice winner, Queensland based artist Samantha Hobson for her piece, Wave Bust … Windy Night.
Georgia Symmons, General Manager of Telstra's Indigenous Directorate congratulated Shane and all of the artists featured in this year's Telstra Art Award.
"Telstra is delighted that the online gallery has provided an opportunity for more Australians to see the wonderful Indigenous art featured in the Telstra Art Award," Ms Symmons said.
Now in its 26th year, the Telstra Art Award is the longest-running art award dedicated to the work of Aboriginal and Torres Strait Islander artists, and has come to be regarded as one of the premier national events in the Australian Indigenous art community.
The Telstra Art Award exhibition closed on Sunday 25 October 2009, however the website will continue to provide a virtual experience of all 93 pre-selected artworks in the 26th Telstra National Aboriginal & Torres Strait Islander Art Award.
Image: Shane Pickett, To stand in a run off fresh water stream, synthetic polymer paint on linen
The 26th Telstra National Aboriginal & Torres Strait Islander Art Award is supported by the Visual Arts and Craft Strategy, an initiative of the Australian, State and Territory Governments