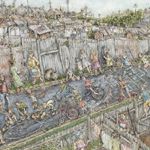 The winner of the 2008 Parliament of NSW Indigenous Art Prize was announced at the official opening of the exhibition at Parliament House on 22 October. The Parliament of NSW Indigenous Art Prize is a $20,000 acquisitive prize for Indigenous artists born in NSW and belonging to a NSW language group. Building on the success of the 2005, 2006 and 2007 prizes, the official opening of the 2008 Parliament of NSW Indigenous Art Prize proved to be a popular event.
Danny Eastwood was awarded the prestigious prize with his work My Reconciliation. Eastwood has exhibited both nationally and internationally and is a self-taught artist that works across a range of media including sculpture, ceramics, printmaking, painting and drawing.
My Reconciliation is a nostalgic look at urban Aboriginal experience. It is a confident expression of modern Aboriginality and celebrates the way in which Aboriginal communities survived and thrived in the inner city. Based on Eastwood's personal reminiscing about his childhood, it is witty and humorous and explores an era and situation that is not often explored in contemporary Aboriginal art.
The judges Larissa Berendt, Vic Chapman, and Djon Mundine OAM were impressed by the individuality of Eastwood's expression, his attention to detail and the fine craftsmanship of the drawing. They also felt that the work made a strong political statement about the importance of urban Aboriginal communities at a time when governments are directing resources to communities in the Northern Territory and away from New South Wales.
This year there were more entries than ever before, and works by 32 individual artists were selected. The finalists currently have their works on display in an exhibition at NSW Parliament House, available for viewing until 5 November (Monday – Friday). There is a full colour 2008 Parliament of NSW Indigenous Art Prize catalogue, available free of charge at NSW Parliament House while the exhibition is on display.
The 2008 Parliament of NSW Indigenous Art Prize features a second award, the College of Fine Arts (COFA) Professional Development Award. This Award is supported by the University of NSW, and includes a two week residency and solo exhibition at the EPS Gallery at COFA's campus in Paddington.
The winner of this Award is Gordon Syron for his painting "… and they never asked us for our land". This work is constructed from two panels that hang over a canvas stretcher. The imagery of tall ships looming menacingly on the horizon accompanied by the text that divides the two painted panels is a powerful evocation of Gordon's longstanding commitment to documenting the true history of our nation. With the COFA Award Gordon will have the opportunity to investigate a project during a residency that utilises COFA's arts and teaching resources that will culminate in a solo exhibition at COFA in 2009.
A regional tour of selected works from the 2008 finalists will be shown at Moree Plains Gallery, Goulburn Regional Art Gallery, Muswellbrook Regional Arts Centre, Brewarrina Visitor Information and Cultural Centre and Manning Regional Art Gallery throughout 2009. The regional tour is coordinated by Museums and Galleries NSW.
The Parliament of NSW Indigenous Art Prize was established in 2005 has been developed in partnership between the Parliament of New South Wales and Campbelltown Arts Centre, and receives support from Arts NSW. The Prize is an important step in recognising the great wealth of artistic excellence in NSW Indigenous communities.
My Reconciliation by Danny Eastwood
…and they never asked us for our land by Gordon Syron