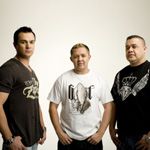 Deadly Vibe Issue 150 August 2009
They've proudly waved the red, black and yellow on the Australian hip hop scene, now the Street Warriors unleash their unique style of hip hop on the masses. To do that they've enlisted one of the country's biggest pop drawcards: Shannon Noll.
At first glance, teaming hard-edged Indigenous hip hop crew Street Warriors with pop poster boy and former Australian Idol favourite Shannon Noll doesn't seem like an obvious collaboration. This musical pairing makes sense, however, when you hear their version of the classic Goanna track Solid Rock, due out later this month.
Brothers Abie and Warwick Wright, formerly known as Local Knowledge, have made a name for themselves as the Street Warriors on the back of their high-energy, in-your-face Aboriginal anthems, such as Look at Me. Solid Rock (Street Warriors Version) feat. Shannon Noll is the first track that they have conceived and recorded with a mainstream audience in mind.
"It is a uniting song that a lot of people can relate to, Aboriginal and non-Aboriginal, so I think that was a big thing for us," says Abie aka Predator.
"We're at the point now where it's a mainstream thing as far as our music is concerned. We've got to where we wanted to be in the Indigenous community and now it's about crossing over. This is our first crossover song."
The connection with Shannon came through the singer's cousin, who is an old friend of Warwick's, aka Wok.
"We wanted to modernise the song and when we looked at it, we thought, who better to do this than Shannon?" Abie says.
Shannon jumped at the chance to be a part of the track. A recording session was quickly arranged while the boys were putting the finishing touches on their new album in Melbourne.
Originally released in 1982, Solid Rock broke through onto Australian rock charts with its driving beat and piercing lyrics speaking to mainstream Australia about Indigenous issues, particularly land rights.
Written and performed by Shane Howard with rock band Goanna, the song became a massive hit, resonating with Indigenous and non-Indigenous Australians and quickly becoming an anthem for the growing Indigenous rights movement.
"Shane's been a part of the whole process," reveals Abie. "We opened The Dreaming festival with Shane and his daughter. Shane actually sang the chorus while we did the raps – it got a massive reception.
"He was a part of the production team as well and he was there when we actually mixed the track down and made all the changes – he loves it."
Set for release on 31 August, Solid Rock will be the lead track off the Street Warriors' debut album due before the end of the year.
With a working title of Unstoppable Force, the album follows the boys' successful Real Knows Real EP. It boasts an international production line-up, ensuring you'll hear the duo like never before.
"The tracks are being mixed in America and it's a quality that we've never had before as far as beats, the production and just overall sound goes, so it's going to be a nice surprise for everyone," says Abie.
Head to www.vibeblog.com to listen to a sample of the track, which will be available to purchase at the end of the month at GoSet Music Store (www.gosetmusic.com). Find out where the Street Warriors are performing at www.myspace.com/streetwarriorsmusic.