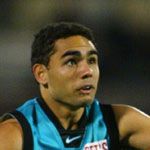 Talented 18-year-old Shaun Burgoyne is another one to watch in AFL. After playing for South Australia at the 1999 and 2000 AFL National Under 18 Championships, he was picked by Port Adelaide Power – his older brother Peter's team – during last year's national draft.
Shaun made his senior debut for the Port Adelaide Magpies in 2000 and quickly impressed those in the know with his fast pace and kicking skills. Tending to play along the back line, he is able to get out of heavy traffic in almost any situation.
Shaun started playing football at the age of six in the Under 10s competition for Aboriginal team Mallee Park Football Club in Port Lincoln, South Australia. With Peter already training at the club, Shaun decided to trial for the junior teams. And he hasn't looked back since.
When not playing Aussie rules, Shaun is involved in a youth program which sees him giving motivational talks to school kids. "I talk to them about drugs and alcohol and how important nutrition and exercise is," he says.
He also likes to hang out with friends and family, including cousin Graham Johncock (see over) who plays for the Adelaide Crows.
Shaun's ultimate goal is to play as much first grade as possible for Port Adelaide Power and to some day win the premiership. A pipe dream for someone so young? Not necessarily – look how far he's come already. And he's a young man who likes his Weet Bix!
"You play to win a premiership and to do that it would be a dream come true."