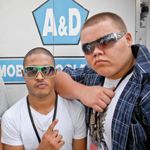 They have the looks and the connections but it's the beats and words that are stunning audiences
Everybody is indeed watching and listening to Stunnaset. If you haven't seen them performing at the Yabun festival during the past two years, or in the music-dance fusion hit Reconzile, you're sure to see them on ABC2's promotional "Youth Connections" spots, screening from this month.
The piercing truths in their lyrics are matched by their good looks and charisma on stage. They may have been well-named as the Young Stunnaz but a name change to Stunnaset, after a MySpace search revealed a Florida band with the same name, means they are looking to step up to the major league.
Stunnaset are Rhimi Johnson-Page (Reezy Jeez), Ryka Ali Satrick (Young Ali) and
Henry Edwards (Big H), three young men who have known one another since childhood. Rhimi and Ryka grew up surrounded by cultural performances from the time their mothers were students at the National Aboriginal Islander Skills Development Association (NAISDA) and then dancers at Bangarra Dance Theatre.
"I really could dance before I could walk," says Ryka, who still dances with his mother's performance group InDidgDance as well as his having his own cultural presentation for schools. "Hanging out at NAISDA and Bangarra, it was just what mum taught me."
"We were always putting on shows for our parents," Rhimi recalls. "It was a bit of a mix of everything, we just kept them entertained and laughing."
But don't be fooled by the performance background. There is plenty of reality check street cred and hard knocks in their past as well.
Ryka experienced the tough streets of Los Angeles and New York, spending two years there from 2005 with his mother Taryn Beatty (daughter of singer Cindy Drummond) and her American husband Sam.
"I was put into it, it was kinda natural," he says, referring to being "adopted" by his American cousins into basketball, gridiron and krumping.
Father Sam had introduced him to hip hop at an early age and he has had the opportunity to play and learn the didjeridoo from some of Australia's best. The fusion of musical cultures fascinates Ryka and he has already produced his own cd mixing hip hop, beat boxing and didg, with one track a mix of techno music and didg he calls "Yigi Yigi Tech".
It went down a treat at live performances in America.
"Being Indigenous stood out in the community over there," his mother Taryn, who now teaches at NAISDA, recalls. "He'd be holding the didg and they'd think he was black American and I'd say 'Ryka say something so these people know where you're from' and he'd say 'Wassup?' and I'd tell him 'No don't say wassup, say something so they know you're from Australia.
"His accent did change but we'd keep reminding him it's where you come from, that's your culture, that's what's important. It took him awhile but he's come back to it."
The third member of the group, Henry Edwards, was in the same class at school as Rhimi's sister Rikarli. "He was into rap in primary school," says Rhimi. "He was doing stuff on his own and then we got together."
When Ryka returned from the US, he was surprised that his friends had gone down a similar musical path as him and the old bonds were immediately reformed.
Rhimi describes his own journey as "dance, then trouble, then rap".
The son of dancers Rayma Johnson and the late Russell Page took to expressing his troubles through rap after the tragic suicide of his enormously talented father.
"I locked myself in a room for about five or six hours, played beats and gave it a go," he says. "It's an outlet I've found that keeps me out of trouble."
Rhimi's uncle, musician and composer David Page was on hand at his Nikinali Music Studios alongside Bangarra Dance Theatre on Pier 4.
"His father was a huge influence on him," he says. "After Russell died, I let Rhimi go off on his own for a little while and do his own thing. I knew he had a gift and I knew he was clever enough to recognise it. One day he just came in and said 'I'm ready now'.
"I just taught him all the technical stuff. I really believe Russell is guiding him. He's so like his father, it's uncanny.
"Russell was quite musical. He'd sneak into the studio when I was composing and he was supposed to be dancing and he'd help out with the instruments or have a go on the drums. They'd come looking for him and he'd say "Tell them I'm not here'.
"It's like Rhimi is living out Russell's dream of being a musician."
Rhimi's looks and intensity is also attracting the attention of filmmakers. A child performer on stage with Bangarra and in short films, he has just been cast as the lead in an Indigenous short thriller by Adrian Wills, Daniel's 21st, opposite Deb Mailman.
"Rhimi is probably one of the most interesting people I know at the moment," says Adrian. "He has the potential and skills to make it internationally."
Everyone, it seems, is looking at the boys from Stunnaset.