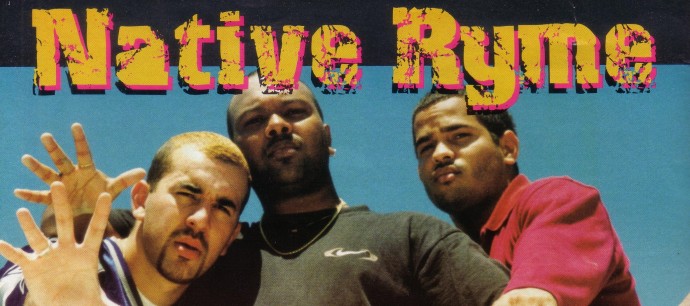 Keep your eye out for Native Ryme Syndicate (NRS), a new hip-hop and rap band based in Brisbane.
They aren't that new really. We've been hearing such great things about NRS here at Deadly Vibe but we had a bit of trouble finding them. They first caught the eye of their manager Ade Kukoyi in late 1995 when they were performing at a charity concert to raise money for homeless children at Christmas. So obviously they ain't no bimbos either.
Native Ryme Syndicate is made up of three members Cameron Callope , Jason Rogers and Craig Feltis. Cameron, also known as C-Roc is from the Gkuthaarn clan in the Gulf of Carpenteria. He is the founder of the band and lead rapper. Craig or Brother C is support rapper and Jason, J-Boy is on harmonies. Don't you love hip-hop names.
Now if you want to hear some of the raps from these boys keep your eye out in the Deadly Vibe record bar because they are just about to release their debut CD, recorded live at Barambah Beltout festival in Murgon, Queensland.
When we caught up with Native Ryme Syndicate they were about to play on the opening night of the Adelaide Festival at the Tandanya Cultural Centre early March just past.
They have been playing all over the pace at the moment and pride themselves on shocking audiences wherever they go.
"We are doing what no one else is doing, entertainment wise and performance wise," Cameron said.
People often associate rap with African American groups. Cameron describes rap as a means for an oppressed group of people to get their messages out. And anyone who listens to 2-PAC would definitely agree, hip-hop is a voice.
Cameron has lost friends to suicide and he has considered doing the same thing in times of despair. Much of NRS's music talks about such issues.
To reach out to others in the same position he wrote a song with his band titled We'll Always Love You, which is about youth suicide and black deaths in custody.
"Rap is poetry. These days there are different styles. With Native Ryme Syndicate we say why hassle us for taking Rap from the States when other groups have taken the Blues and Country from the States."
Native Ryme Syndicate are Australia's Aboriginal male rap and hip-hop group.
With it's own original lyrics and covers, Native Ryme Syndicate has the presence, energy and vibrancy on stage that is required for this music.
Hey! Everyone at Deadly Vibe is really looking forward to hearing your music on your new CD.