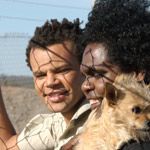 Deadly Vibe Issue 151 September 2009
The new Stone Bros movie features some of Australia's deadliest talent, including Luke Carroll in a starring role. Deadly Vibe caught up with Luke, who's also the host of this year's Deadlys, to find out what the movie's all about and why it's making history.
There was a time when you could go to the movies and never see a black face on the screen, let alone a whole movie made by blackfellas. These days, however, you'll see not only black faces, but also black writers, directors and producers. Our hard-hitting dramas and films have been winning awards left, right and centre, but now we're showing the world our Deadly sense of humour. Stone Bros is the first Aboriginal comedy to play out on the big screen.
Set in and around Perth and Kalgoorlie, Stone Bros is a road-trip redemption movie, written and directed by the talented Richard J Frankland. It follows the journey of Eddie (Luke Carroll) and his cousin Charlie (Leon Burchill), who find their lives change for the better when they leave behind their hard-living lifestyle, and reliance on marijuana, to embrace their culture and connection to home.
"Eddie's sort of your laid-back, hard-working type," says Luke. "He and his cousin Charlie are originally from Kalgoorlie, but they're in Perth for work opportunities… well, actually, Charlie's there for women opportunities," he laughs.
"When Eddie gets sick of going round in circles and partying too much, he decides he wants to reconnect with his family back in Kalgoorlie. He decides to head home on a road trip and Charlie goes with him. That's the start of the film really – the big road trip back home."
Along the way, the boys run into some interesting characters. When they stop to pick up a 'hot chick' that Charlie spotted, he is actually a long-haired Italian stallion called Vinnie (Valentino del Toro), who has been abandoned in the desert by his heavy-metal band. Watch out for Aunty Carol (Mary G, aka Mark Bin Bakar) and, further down the track, David Page as the boys' cross-dressing cousin, Regina, who is desperate to make it onto 'that Koori Idol show'.
"David played that part so well," says Luke. "He's got a bit of a drag-queen past and he was pretty committed to the role – I don't know if I should tell you this, but he got the whole body wax and maintained it through the whole seven-week shoot, so he deserves some credit," he laughs. "He was awesome, he's a great talent and it was just great to be able to work with him again."
As the film progresses the four travel buddies wind their way towards Kalgoorlie, meeting a host of other eccentric characters, attending a literally explosive wedding ceremony, conspiring to hold up an outback museum and being pursued by a vicious demon dog.
Leon Burchill, who plays Charlie, says the script was a lot of fun and that was reflected in the making of the film. Playing alongside Luke and working with director Richard J Frankland, he says, meant there was never a dull moment on set.
"There were no boring moments during the film, especially working with Richard Frankland. He really helped us with his energy. He'd come up with jokes and surprises for us every day, and you didn't know what to expect when you went on set. The crew put so much effort into making us look really deadly, too," he laughs. "I just love the crew and I put my hands up to them."
Reports from early screenings of Stone Bros, which opens on 24 September, suggest it will be yet another impressive string to the bow of Luke Carroll, who already has a remarkable range of credits to his name, including AFI Awards for Best Supporting Actor (Australian Rules) in 2002, and Best Supporting Actor in a TV series (RAN) in 2000.
Apart from hosting the Deadlys this year, Luke could find himself on the other side of the podium if he wins the Best Actor award he's been nominated for.
"It was quite a surprise and an honour to be nominated," says Luke. "I always look forward to the Deadlys, whether I'm nominated or hosting or not – it's a great event. It's a good night because everybody's really proud of what they've achieved. To be hosting the show is quite nerve-racking, but it's also a big honour and I'm really looking forward to it."