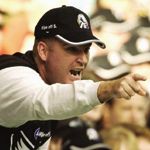 Ever heard of Ugly Parent Syndrome? No, it's not something that turns a parent into a hideously ugly beast – it relates to the way a parent acts when watching their child play sport.
We've all seem them – parents who stand on the sidelines and scream abuse at other players, referees, fellow spectators and even their own child. This kind of behaviour has a detrimental effect on all who witness it, and it is damaging to sport as a whole.
Sport has become a huge part of Australian life. Participating in weekend sport is a great way for a child to get fit, make friends, and gain self-esteem. It's also a perfect opportunity for the whole family to get together and enjoy a healthy activity. But when parents turn ugly, things can turn from positive to a big negative.
Not only does aggressive sideline behaviour spoil people's enjoyment of the game, it can turn into something much more serious, such as physical violence. In one extreme case in America, one parent was convicted of murdering another spectator parent after an incident at a junior ice-hockey practice game.
Ugly Parent Syndrome also has a serious effect on a child's development and self-esteem. Children can come to despise playing sport, or believe that they are hopeless at it because of their parent's reaction. They may even drop out all together, missing out on exercise and the important lessons that team sports can teach them – sportsmanship and being a team player, discipline, confidence in their abilities and respect for others. It can also set the wrong example by teaching children that violence and aggressive behaviour is acceptable.
Following the introduction of codes of conduct by the Australia Sports Commission in the early 1990s, State and Territory Governments have released guidelines in an attempt to combat the incidence of Ugly Parent Syndrome. Advice in these guidelines includes:
• Don't criticise your child if they aren't as capable as another child. Children develop at different levels. Playing well is not the same as trying hard.
• Don't embarrass your child by behaving badly on the sidelines – they will lose the respect of their team mates.
• Don't interfere – respect the umpire's decision and the rules of the game.
• Training and sport shouldn't be all-consuming. Encourage your child to enjoy other activities and interests.
• Don't put pressure on your child to succeed, as this will be more likely to put them off performing.
• Remember that in sport there are no losers. The point of playing a game is to have fun.
Encourage your child to be the best they can be, and they will grow up to be healthy, happy and proud of their achievements. What more could a parent ask for?