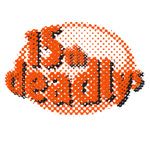 Australia, it's your last chance to get deadly and vote for the 15th Deadlys Awards.
There's only one more day to log on to vibe.com.au and have your say on the 80 finalists across 20 categories. Voting closes at 5pm sharp on Friday, 25 September 2009.
The Deadlys are the annual celebration of the nation's most talented Aboriginal and Torres Strait Islander actors, singers, producers, broadcasters, sportspeople, musicians, designers, artists, writers and community achievers.
While more than 8000 votes have already been cast, there is still time to have your say.
Nominations for the Deadlys come from the community and are voted on by the public, so it's really peer and community driven.
All votes are calculated and awards announced at a glittering event of unity and pride held at the Sydney Opera House on 15 October 2009.
"Each year we strive to deliver an event that represents the year that was and pay tribute to those who have achieved," Deadlys executive producer Gavin Jones said.
"And there are always a few unexpected results, you can never quite predict how the community will vote!"
Only one vote per i.p. address will be accepted and voting closes strictly at 5pm.
The Deadlys are becoming more and more recognised as last year's winners show in Geoffrey Gurrumul Yunupingu, footballer Chris Sandow, Suri from So You Think You Can Dance and actress Leah Purcell. They are household names across Australia.
Tomorrow is the final chance to help celebrate Indigenous excellence, so log on to www.vibe.com.au/deadlys to put your hand up for your favourite achiever.