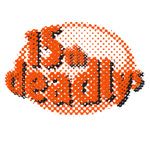 Lynette Mowarin
Lynette Mowarin dedicated her life to Aboriginal Health, working in Roebourne Aboriginal Medical Centre, Mawarnkarra Health Service, WA. Lynette passed away earlier this year and will be remembered as an inspiring and dedicated community member whose passion was improving the health of Indigenous people.
Chicka Dixon
Charles 'Chicka' Dixon is one of the most influential figures in contemporary Aboriginal Australia. He grew up at Wallaga Lake and Wreck Bay on the New South Wales' south coast. At 14, he worked as a labourer on the waterfront at Port Kembla, where his involvement in strike action sparked an interest in politics. He then moved to Sydney, where he became active in trade union circles and took a leading role in the campaign for the 1967 Referendum.
Chicka was both an instigator and an organiser of the 1972 Aboriginal Tent Embassy. As one of the few experienced campaigners, he acted as a mentor for a firebrand group of young activists who sought to bring Aboriginal rights issues into the mainstream. His influence helped the tent embassy activists gain direct access to senior Government figures and was instrumental in encouraging the media to question the living conditions of Aboriginal Australians.
In 1984 Chicka Dixon was nominated for Aboriginal of the Year in recognition of his contributions to Aboriginal health, community development and culture. He continues to travel the country, lecturing and sharing his wisdom.
Dr Mark Wenitong
Dr Wenitong is now the Senior Medical Officer at Apumipima, the Cape York Health Council service that looks after the health issues and policies of Cape York communities with Federal and State Governments. Dr Wenitong has assisted in the setup of AIDA and has been instrumental in gaining much needed support for many health programs and organisations in Far North Queensland.
Tristram Pigram
Tristram Pigram is the captain of the Broome Saints football club and one of the leaders in the 'Alive and Kicking Goals' program, an innovative suicide-prevention program running in Broome, WA.