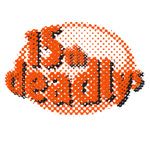 Carly Wallace (4K1G)
From 2004-2007, Carly Wallace volunteered her time at TAIMA, 4KIG, doing her own request and music programs, as well as filling in for various presenters and presenting nearly every major program on 4K1G. She completed her Certificate III and IV in Radio Broadcasting at Bachelor Institute NT. In 2006 she participated in the Young Leadership Forum, and in 2008 she was a member of the Indigenous Advanced Leadership Forum. Since mid-2007 she has been 4K1G's sole breakfast announcer. Her goals and aspirations are to explore all types of media, and to go back to her homelands of the Atherton tablelands to start up the first Indigenous radio station there. She is a truly inspirational young woman doing great things for the Indigenous community.
Dwaylene Brown (Umewarra Media)
Dwaylene Brown is a young trainee at Umewarra Aboriginal Media Association, which she joined in November 2008. She presents three programs on air, including a Language Program and a Culture Program. She has just scripted her own advertisement for a campaign, which was very successful. She is a role model in the community. She has put much of her own time into learning radio and also attends local events. She has recently received a Port Augusta NAIDOC award for her achievements in radio and also a Youth Merit Award from Rotary.
Steve Gumerungi Hodder (CAAMA)
Steve Gumerungi Hodder hails from the Lardil Aboriginal people of Mornington Island in the Gulf of Carpentaria, which is home to the renowned Woomera Mornington Island Aboriginal Dance Company. Steve has lived in Mbantua Alice Springs for more than 20 years, working mainly in the Art and Media. Steve has been involved with CAAMA for almost 10 years. He has been Senior Radio News Journalist and Current Affairs Presenter for about twi years and also tried his hand as Remote Indigenous Broadcaster for CAAMA radio. He is committed to social justice and youth issues for Aboriginal and Torres Strait Islander peoples, which he comments on through spoken word and hip-hop performances and workshops from Warburton in the WA desert to Aurukun on Cape York Peninsula.
Marlene Cummins (Koori Radio)
Aunty Marlene has been on-air at Koori Radio for over five years as the Presenter of "Our Yura" weekdays from 1pm to 4pm. Marlene also hosts the very popular Blues music show Marloo's Bloo's on Sundays from 10am to 12pm, which she has done for 11 years making it one of the longest lasting music shows on 93.7FM.