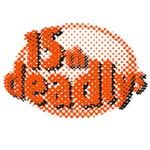 How would you like to win a Deadly?
Well you can!
This year, Vibe Australia is launching the inaugural Deadly Dressed competition at the Deadly Awards to be held at the Sydney Opera House on Thursday 15th October, 2009.
It is an opportunity for Indigenous people from any community across Australia to represent who they are and where they're from by dressing Deadly, with the chance to win a Deadly award!
You can strut your stuff on the red carpet alongside Black Australia's biggest stars and make your community proud. So what are you waiting for…
Who can enter the Deadly Dressed competition?
Any Indigenous person, male or female over 18 years of age can enter the Deadly Dressed competition
What does the Deadly Dressed competition involve?
You get the opportunity to express who you are and where you're from by wearing an outfit to the Deadly awards that represents you and your Indigenous heritage. Your outfit is up to you..you can represent any way you want from wearing traditional costume to the colours of your land.
To win, we are looking for the Deadliest outfit that truly does express the individual and the community. So get creative, start designing now and show Australia how Deadly you can dress!
How do I enter the Dressed Deadly competition?
To enter, simply print the Deadly Dressed entry form, fill it out and send it back to Vibe Australia with a photograph of you in your outfit by 5pm Friday 9th October, 2009.
The final entrants are then pre-selected and invited to attend the Deadly Dressed catwalk that will take place at 5pm on the day of the Deadlys, Thursday 15th October, 2009 at the Sydney Opera House foyer.
Here, finalists will be judged on their outfit by a celebrity judging panel. Entrants will also be interviewed about their outfit and how is represents them and their community.
All finalists will then get the unique opportunity to walk the Deadlys red carpet with all the stars including singing sensation Jessica Mauboy, rappers the Street Warriors and many more.
You will have to make your own way to Sydney if you are a finalist to walk the red carpet, but all finalists will receive a free double pass to the event and the famous after-party.
The winner of Deadly Dressed will be announced during the Deadly awards ceremony on stage in the Sydney Opera House Concert Hall.
Addressing Indigenous cultural and intellectual property
It is very important that your costume recognizes the fact that any cultural material on which your costume is developed is authorised by the traditional owners of the material.
If any ICIP (Indigenous cultural and intellectual property) material is used in your costume, you will need to do the following:
identify that ICIP Material to Vibe Australia;
Grant to Vibe Australia the right to use that ICIP Material for the competition and any filming of the competition
Obtain authorisation by the traditional owners of the ICIP Material (if not you) to grant to Vibe the right use the ICIP Material.

ICIP comprises all objects, sites and knowledge, the nature or use of which has been transmitted or continues to be transmitted from generation to generation, and which is regarded as pertaining to a particular Indigenous group or its territory.

What do you win?

All finalists in the Deadly Dressed competition will get to walk the Deadlys red carpet, receive two tickets to the Deadly Awards and the famous Deadlys after party.

The winner of Deadly Dressed will receive a Deadly Award on stage at the Opera House, alongside all other Deadly award winners for 2009.

So, in 2009, any Aboriginal or Torres Strait Islander person over the age of 18 can win a Deadly simply by representing.

Is there a closing date to enter?

Yes, all Deadly Dressed entry forms must be received at Vibe Australia by 5pm, Friday 9th October, 2009.

Deadly Dressed Competition
PO Box 810
Darlinghurst
NSW 2010

Where can I get more information?

For further information, please email [email protected] or call the free call number 1800 623 430