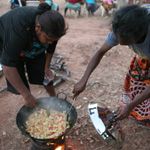 Developed by women in remote NT, Kukumbat gudwan daga: 'Really cooking good food' features recipes for your whole mob using local ingredients
Healthy Vibe congratulates the Manyallaluk, Gulin Gulin and Wugularr Aboriginal women's centres, which surround Katherine in the Northern Territory, and The Fred Hollows Foundation for creating Kukumbat gudwan daga: 'Really cooking good food', a cookbook designed to help communities create tasty and nutritious food for large groups.
The Indigenous Programs Manager for The Fred Hollows Foundation, Joy McLaughlin, said, "Any community could use it. It's really useful for people learning to cook, especially young people. My son could use this and eat healthier than he currently does."
The cookbook contains a great variety of healthy and hearty meals to choose from, with every recipe meeting the Australian dietary guidelines and the NT guidelines for school nutrition programs. All the ingredients are from the Heart Foundation Buyer's Guide and available in remote food stores.
The 80-page book has four sections of recipes, 24 main meals, 17 sandwich suggestions and four simple desserts. Beautifully presented in a glossy, soft cover, the book also has colourful photographs and step-by-step instructions that make it reader-friendly, even for beginner cooks.
Each recipe's ingredients are listed, along with pictures of the actual supermarket products. Best of all, each recipe shows how much of each ingredient you'll need to buy if you're cooking for 10, 20, 30, 50 or 100 people – very handy for when all your mob drops in unexpectedly.
There are recipes for pork, fish, kangaroo tails, chicken, beef and options in a variety of cuisines, from Thai chicken curry to Chinese stir-fries, Italian minestrone to Greek lamb, and good old Aussie farm food, such as shepherd's pie, to outback recipes.
Where else can you find a blackfellas recipe for kangaroo-tail stew or kangaroo in oyster sauce? Then there's old favourites like baked fish fillets, chicken noodle and sweet corn soup, and yummy ham-and-potato salad.
Make sure you leave room for desserts like good old bread-and-butter pudding and apricot crumble. If you're looking for a snack, you can't go past a nice banana, sultana and peanut-butter sandwich. Cooking from Kukumbat gudwan daga: 'Really cooking good food' will keep your tastebuds satisfied for a long time.
Kukumbat gudwan daga:'Really cooking good food' can be ordered from the publisher, Batchelor Press, for $7 plus postage through, their website http://batchelorpress.com/books/kukumbat-gudwan-daga or call (08) 8939 7352.