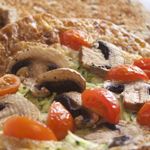 Breakfast is the most important meal of the day.
When you wake up your body needs replenishing with a healthy breakfast ('break' the 'fast'). Eating nourishing food in the morning ensures that your blood sugar remains stable. Studies show that overweight and obese people often skip breakfast, but if you starve yourself in the morning, you are more likely to make bad food choices or binge-eat.
A healthy breakfast energises your mind and body, keeps your moods stable and helps you focus on your daily tasks, whether you're at school, playing sport or working.
Eggs are a popular high-protein breakfast food. One egg contains two thirds of the body's daily recommended fat intake, of which half are good fats or low density lipoproteins. The dietary cholesterol in an egg only has a small effect on blood cholesterol levels, so it's safe for healthy people to eat an egg every day. Chicken eggs are a great source of protein, most vitamins and especially vitamin B12. Most nutrition comes from the yolk while the proteins are found in the whites.
There are many healthy ways to prepare eggs: poached, boiled, scrambled or in an omelette. This delicious vegie-filled omelette serves one person. For two people, just double the ingredients (and use a bigger frypan).
One-Person Vegie Omelette
Approximately 115 calories (490 kilojoules)
Ingredients
½ medium zucchini, grated
2 medium mushrooms. sliced
2 small cherry tomatoes, quartered
1 medium egg
50 ml water
olive oil or canola spray
Method
1. Place the egg in a small bowl and beat with a fork.
2. Spray a small, non-stick fry pan with the oil spray. Add the prepared vegetables and cook for 3 minutes on medium heat until they have softened.
3. Pour in the beaten egg. As it cooks, use a spatula to loosen the cooked egg at the edge of the fry pan to allow uncooked egg to run underneath. Repeat until all the egg is cooked.
To Serve: Add two slices of wholemeal or wholegrain bread, such as soy and linseed, with a glass of milk for a well rounded, filling and nutritional start to your day.
Next Month: Stir-fries are quick, easy and healthy options for a meal… Try our recipe for Pork with Vegies and Glass Noodles.