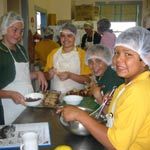 Aboriginal children at Port Lincoln Primary School are learning to cook healthy food for family and friends in a café setting.
The Nunga Kids Café focuses on good nutrition in a practical way, showing students how to prepare good food in a family and community environment.
Port Lincoln Aboriginal Medical Service started the program, intending it would run for one school term. That was about five years ago. The model is so successful it is being considered for other South Australian schools.
The Nunga Kids Café operates from the kitchen and dining facilities of a community-owned neighborhood house.
Students learn to buy, prepare and serve healthy food to their parents, relatives and friends under the guidance of a dietitian, teachers and chefs.
The kitchen has space for up to eight children and three adults. Students are divided into two groups, one for cooking and one for serving, so they all get a chance to practice good hygiene and safety.
Aboriginal Health Worker Jeremy Coaby says it is important the program is culturally appropriate.
"It is located where a lot of Aboriginal people live and they get to be acquainted with the students during the program," he says. "They have Aboriginal people invited as guest speakers, and also family and extended family members are also invited."
Dietitian/Nutritionist Michael Manders says the program suits traditional Aboriginal learning, where young learn through observation and imitation through practice rather than from text books and verbal lessons.
He says that learning in context means that students are able to find greater meaning and relevance to their own lives. This is based on the premise that Aboriginal cultures are more people-focused than information-focused.
The children start by cooking a two course meal for themselves then later they learn to cook a main course and dessert for their parents, themselves and a guest speaker.
Sharing food with family is a traditional practice. It's non-threatening, and sharing a meal is a learning experience with great potential to enhance the physical, social and emotional wellbeing of students.
They develop their self-esteem and confidence and learn how to work together within a team. The program even helps their literacy and numeracy skills.
As a model for other schools, this program ultimately contributes to the building of community spirit as families, health and community services work in partnership with the education system.