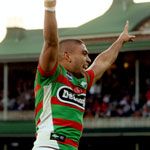 NSW selectors say Nathan Merritt isn't good enough to make the state's 40 man Origin squad, and yet the brilliant winger continues to prove there is nothing he cannot do on the rugby league paddock.
A freakish try scorer who can also win a game with his defence, this week, Nathan pulled yet another surprise from his bag of trick's – kicking a field goal on the full time siren to hand the Rabbitohs a 23 – 22 win over the Tigers.
Despite scoring first, Souths trailed for most of the match before Beau Champion levelled the scores at 22 all with five minutes remaining.
With the stage set for a thrilling finish, Benji Marshall's attempt to seal the win splayed wide of the posts while Craig Wings attempt a minute later ricocheted off Robbie Farrah and was regathered by Merrit.
With less than 10 seconds on the clock, Wing was unable to get off a second attempt and passed the ball back out wide to Merritt who slotted over the unlikely field goal, his first ever in the NRL, from a tough angle 10 metres in from the sideline.
Chris Sandow had limped from the field with an ankle injury in the 59th minute, but was back on the Rabbitohs bench in the final minutes practicing field goals in anticipation of returning to the field in golden point extra time. Merritts perfect strike on full time ensured he wouldn't need to.
Merritt later admitted he doesn't even practice field goals at training and hadn't kicked once since his SG Ball days.
"I could see everyone getting ready for Wingy to take the field goal so I just let him know I was outside him, and he passed the ball. I just had a shot and it came off sweet. I knew it was going over straight away," said Nathan after the match.
Souths coach Jason Taylor again heaped presided on his star winger two weeks after calling for Nathan to be named in the NSW train-on squad.
"It was really smart what he did, he could have just been standing out there on the wing but he put himself in a position to help 'Wingy' out.
"He cleaned up the first one that got charged down, and on the second one he kicks the field goal. That's smart, smart play when the pressure is on. That was big," said Taylor.