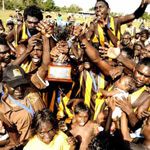 Tapalinga were crowned champions of the Tiwi Island Football League yesterday, defeating Imalu 81 – 73 in a cliffhanger at Tiwi Oval, Bathurst Island.
It was the Superstars first premiership in five years and their tenth overall.
The Imalu Tigers did not give up their title without a fight however, ensuring an exhilarating finish to the match after chasing down a huge eight goal deficit to eventually lose by just eight points.
The Imalu goal rush was led by Camden Vigona-Ross, Bronson DeSantis and captain Noel Galarla.
Tapalinga star Brad Palipuaminni was awarded the Brother John Pye Medal as best on field.
Outstanding football from Canis Tipuamantumirri and Graham "Aeroplane" Puruntatameri got Tapalinga off to a roaring start and paved the way for the eventual victory.
Imalu's chances of regaining their title received a major blow early in the contest when their captain, Noel Galarla, was forced from the field with injury in the first term, the injury hampering his play throughout the remainder of the match.
Tapalinga captain and grand final specialist Robert Cunningham came to the fore in the second term, capitalising on the good work of his brother Gerrard Cunningham, Palipuaminni and Sylvanis Tipiloura with two goals.
Defensively, Phillip Babui, Raymond Kerinaiua, Fidelis Puautjimi and Demetrius Kerinaiua kept the Tigers caged in the third stanza as Nelson Puruntatameri led a six-goal surge.
TAPALINGA4.2 8.3 12.7 12.9 (81) IMALU3.2 5.4 5.5 11.7 (73)