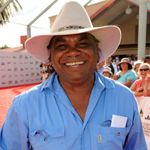 A love of country music is often handed down from one generation to the next but few share it like these two great Indigenous talents.
Warren H Williams cemented his relationship with his dad, Gus, at the Tamworth Country Music Festival this year.
They are the first Indigenous father and son team to be honoured in the Hands of Fame Park in Tamworth, where Australian country music legends are invited to leave their handprints in wet cement. In fact there is only one other pair, Lee Kernaghan and his father Ray, who have been recognized in this way.
It was a special moment for both, having rekindled their musical alliance in the lead up to the Hands of Fame induction with a week of performances together in Tamworth following touring through South Australia, Queensland and country NSW.
The honour sees them joining fellow Indigenous musicians in the Hands of Fame Park including Jimmy Little, Harry & Wilga Williams, Auriel Andrews, Troy Cassar-Daley and Roger Knox alongside other Australian country music greats such as Slim Dusty, Smoky Dawson and Tex Morton.
To top it off, Warren won his first Golden Guitar with John Williamson & Amos Morris for Bush Ballad of the Year Australia Is Another Word For Free, penned by John Williamson.
"It's a knockout!" Warren says, clearly feeling like a champion.
Gus, who received his recognition in 2000, had no doubt his son would one day join him.
"I knew he had it in him," he says. "To get this far is just a great success and recognises how far he's come."
"He's crossed many flooding creeks and walked through droughts, and overcome a lot of obstacles to be where he is today," referring to Warren's battle with the bottle. "Warren's very strong."
Warren started singing church songs with his Dad in the famous Hermannsburg Choir, on Arrente country in their birth town of Hermannsburg.
"In those early days the only songs that we used to sing was Christian songs," Gus, now 72, recalls. "We were following our great uncles and aunts. The church policy was really strong. You never just sang any of the songs you really wanted. You had to sing your own [Arrente] songs secretly."
Church policy meant it wasn't until the 1950s that Gus picked up a guitar and started singing country music and Warren recalls he used to practise playing with his dad's band at home.
"I really loved music at a young age," Warren says. "I was interested in everything. I reckon that's one of the things that really kept me alive. Even with my drinking problems, my music was really strong for me. I was always interested in music."
The Bringing Back The Country tour in January not only brought Warren and Gus together on stage but also other family members in the band, Warren's children Linden, Bridgette and Robert and Warren's uncle Herbie. They performed in Port Pirie, Port Augusta, Wilcannia, Brisbane and Tamworth playing all the favourites including My Journey Home, Gidgee Coals, Raining On The Rock and Learn My Song.
When father and son first tried to play together in Tamworth in 1990 they found it very hard to get a gig.
"You're playing out in the street, trying very, very hard for recognition," Warren recalls of that time 18 years ago. "It's hard for any Aboriginal person.
"But now [with this award] it's different. It really has changed. It's taken a long time. I'm on this side of the fence and now I can see it's changed. Now people [in this industry] have more respect for Aboriginal musicians.
"Now we've laid our foundation here and the foundation is now a lot stronger with Warren's award too," Gus says. He proudly remembers the time in 1998 when a radio announcer said that he'd never seen a standing ovation at Tamworth until the day that the two W's, Warren H Williams and John Williamson performed Raining on a Rock.
"That's when I thought to myself that was it, he had overcome all the struggles," Gus says. "It's been a hard road in music."