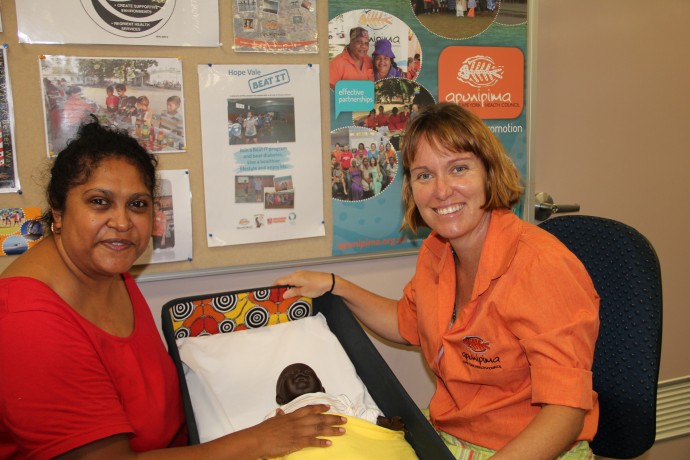 Five midwives based in Cairns have received the opportunity to further their studies, thanks to the Australian Government's Department of Health and the Australian College of Nursing.
The scholarship is worth $18,750 and was applied for by all midwives at Apunipima, though only five applicants were successful. The course is a Postgraduate Certificate in Screening, Dianostics, Pharmacology and Prescribing for Midwives.
Upon successful completion of the post graduate study, midwives will become eligible to obtain Medicare provider numbers, prescribe limited and appropriate medicine, organise referrals and order obstetric ultrasounds for their clients.
"That means we will be able to prescribe medicine for women and also to be able to order things like ultrasounds and blood tests. In the past, if you're a midwife and you need any of those things done, you have to refer the women to their GP," Team Leader and Nurse Educator of Maternal and Child Health, Johanna Neville explains.
"In a sense, that means if you're working in the Cape and there's not a doctor on board or visiting on the day that we're working – we can make those orders for the women and that means the women don't have to come back and see a doctor the next day."
The other advantage that the midwives will have is ordering their own ultrasounds right away, rather than making the expectant mothers wait to see a doctor.
Apunipima represents 17 Cape York communities, providing culturally appropriate, community controlled comprehensive primary health care and advocacy services to 11 communities and advocacy services only to the six Northern Peninsula Area communities.
"The role of the midwife is that she will actually be seeing all pregnant women and it's a joint project between the health workers and the midwives to take care of the women in the pregnancy and the immediate period after the baby is born," Johanna says.
In the Cape York communities there are limited medical services and existing medical services are primarily run by visiting doctors, nurses and health care workers. Pregnant women are encouraged to travel to Cairns at 37 weeks of gestation and stay until they are ready to safely give birth.
This means they are often away from their families and friends for long periods of time and the nurses of Apunipima are there to provide comfort and support to the women. Johanna explains that the Postgraduate Certificate will help build trust.
"By being able to order all the tests for the woman and the medicines, builds that trust. She trusts the midwife there and the midwife can do just about everything for her," she says.