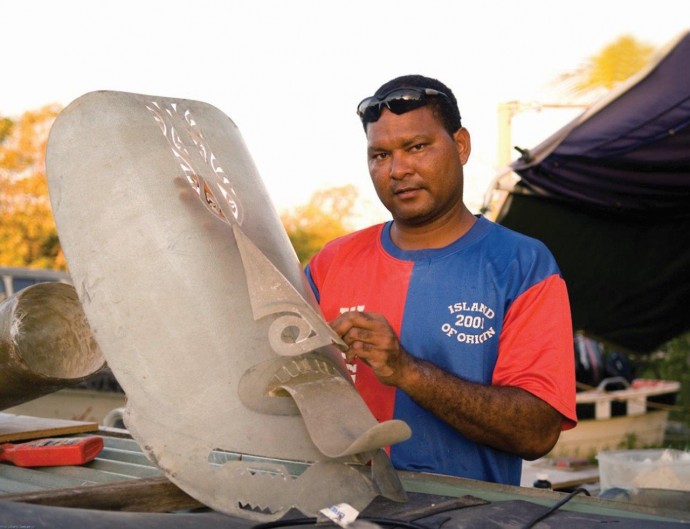 Alick's father and grandfather were both talented craftsmen and artists, and he watched them and picked up techniques while growing up on Thursday Island.
"I was always drawing and doing art through high school," Alick says. "I left school halfway through Year 12 to attend TAFE on Thursday Island as I knew that art was what I wanted to do. I got ahead of all my age group and started studying art seriously."
After several years at TAFE, Alick ended up at the School of Art in Canberra for three years and he was awarded a Bachelor of Visual Arts.
Alick has always had a keen interest in the stories and history of his birthplace, and spent many hours listening and absorbing knowledge from his elders, documenting stories and language. Holding this knowledge in high respect, and always seeking permission of the respective families, Alick's artwork has consistently been based on traditional Torres Strait stories and myths.
"Culture is a big part of my artwork," he says. "Without the knowledge that I have now, I probably wouldn't be doing art, simply because art is a tool to promote and tell stories about your culture.
"Also it's been very important to me, to learn linguistics in my work to make sure that I have the right to tell certain stories through my artwork, in a protocol sense.
"Out of all the many works that I have done, I've only titled two of them in English, the rest have been in language. It's always been important to me to make sure that I have the correct spelling."
Alick expresses his passion for culture through several different mediums. His first foray into art was creating traditional dance apparatuses.
"Before I became well known for my lino, I was creating (traditional) dance apparatuses. I would watch my father and grandfather creating these pieces, which I really saw as art. I wasn't doing it at a commercial level though," he says.
Commercial success would come later though through Alick's most well-known pieces, which were created through printmaking, namely his large-scale linocut installations. With these pieces he has won numerous awards, including Telstra National Aboriginal & Torres Strait Islander Art Awards in 2003 and 2007.
He has also since gone on to establish a dance troupe, which he creates all of the costumes for.
"I took my love of culture a step further by establishing a dance troupe, to make sure that our stories are told correctly in that sense. It's based on the ancient style and is a very protocol-based style of costumes," says Alick.
"If I didn't express myself through visual art, then I would do it through performing arts. Art in general is important to me. Documenting culture is one thing, but actually continuing to practise it is a different thing altogether – you are experiencing it."
Alick's work is currently displayed in the collections of Cambridge University Museum, the British Museum, the National Gallery of Australia and the National Museum of Australia.