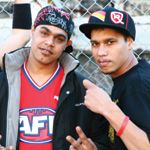 Their grandfather was a leader of the Aboriginal art movement, now these young warriors want to canvas the world with their hip hop style
The grandsons of internationally-renowned artist Clifford Possum Tjapaltjarri have found their own voices. While their grandfather used paints and canvas, Tjimba and the Yung Warriors have hip hop and the internet to take their message to the world.
As a young boy, Tjimba Possum Burns travelled around the country with his famous grandfather and remembers sitting with him while he painted.
"We went everywhere when I was a little fella," Tjimba says. "He used to tell me stories, Dreaming stories about what he was painting, and he had one brother who would dance the story of the paintings and I used to watch him do that, so . . . that was real special."
Tjimba and his older brother Narjic Day Burns are the sons of Selwyn Burns, the Aboriginal musician who became famous playing with Coloured Stone, Mixed Relations and No Fixed Address.
With their cousin Danny Ramzan, Tjimba and Narjic formed Tjimba and the Yung Warriors five years ago, releasing their debut album, Warriors for Life, in 2007.
"Music is something that was just always around us," explains Tjimba, "and the support from the family has always been so deadly. My younger brothers are getting into music now as well and they're playing bass, guitar and drums, so family is a big part of what we're doing."
Following a successful debut album, a Deadlys nomination and an international collaboration, Tjimba and the Yung Warriors plan on taking Indigenous hip hop to the next level. They certainly made a strong impression at Yabun in Sydney this year.
"It was just deadly to see so many blackfellas, as well as meeting so many different Indigenous bands from around the country," Tjimba says.
"We hung out with the boys from Zenith for a few days, getting to know them and getting to know their music. Uncle Bart Willoughby told us about a place where we could go, so we got to have a few jams with them as well."
The boys are no strangers to massive crowds, having already performed at the Big Day Out and supported 50 Cent on his tour, while at the World Indigenous Peoples Conference: Education (WIPC:E) in Melbourne, they rubbed shoulders with other Indigenous people and musicians from around the globe, performing to a full house.
"Yeah, we did WIPC:E at Rod Laver Arena and that packed out the whole stadium. There were a lot of fellas from overseas, a lot of fellas from Hawaii and they just came up to us like, 'Hey, Yung Warriors, you guys are awesome', so yeah, it was so deadly to see other Indigenous mobs loving our stuff," says Tjimba.
Though on a different musical path, the band acknowledges the family's musical roots and cultural connections.
"It was something different," says Tjimba, explaining what led him towards hip hop. "I was playing in a band for awhile, but I always wrote poems and rhymes ever since I was in year nine or 10."
The turning point for Tjimba was seeing Aboriginal MCs performing hip hop.
"I didn't even know that there was hip hop in Australia until I went into the city one day and met Little G for the first time. She ripped it up on stage and I just thought, man, this is for me, this is what I want to do, this is how I'm going to become a voice.
"Hip hop's grown because a lot of young fellas love it and not only that, I grew up around it and everything I know with my instruments I put into my hip hop," he says.
A major difference for young musicians today is the popularity of social-networking sites, such as MySpace, allowing groups to market themselves on a global scale.
"It's a great way to promote yourself and MySpace and all those sites are just brilliant. They're so good because so many blackfellas are on it, fans can go on to listen to your music and you get good feedback as well," says Tjimba.
It was thanks to MySpace that the boys connected and collaborated with Outlawz, the American group founded by Tupac Shakur who was slain in 1996.
"Yeah that was great", says Tjimba. "They were doing a show in Sydney, so we MySpaced them up and said, 'Hey what are you guys doing, we're starting a record label soon and want to know if you guys are interested in doing a track', and they ended up doing five tracks and three videos with us here."
The collaboration also gave the Warriors some handy insights into another level of the hip hop industry, with the Outlawz passing on plenty of knowledge.
"We played ball for a couple of days, but as soon as we got in the studio it was just business, and the deadliest thing is we learnt heaps from those guys because hip hop is their culture.
"One day E.D.I. Mean got up, memorised his verse, scrunched up the piece of paper and just walked into the booth and did the whole thing there. I was just like, 'Man, this is what we've gotta do!' But all the boys are so proud to have worked with the Outlawz and those brutha boys want to come down and collaborate with more Indigenous artists," says Tjimba.
The Yung Warriors are now intent on building on their reputation and opening the door for more talented Indigenous hip hop crews.
"We're starting a record label with Nathan Lovett-Murray called Payback Records, and we've got a lot of other musicians as well and a couple of brutha boys from Melbourne involved, so we're all helping each other out. It's so deadly because we know each others flavas and each others styles and it helps us out too," he says.
The record label is part of the plan to take the Yung Warriors' music, and that of more emerging Indigenous hip hop artists to a world market.
"If you want to take your music anywhere it's got to be overseas. You need to get your music overseas and start selling your music overseas, start your entourage and don't give it up.
"So that's what we're doing and we want to start something, we want to give young musicians opportunities, that's what Payback is here for, so for any young fellas out there, if they want to do a track with us or whatever just come down, don't be shame."
Checkout Tjimba and the Yung Warriors' MySpace page at www.myspace.com/tjimbaandtheyungwarriors