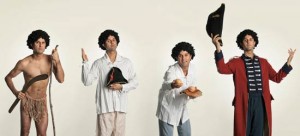 Bungaree (1775 -1830) was the first person described in print as being an 'Australian' and was a well-known figure in colonial Sydney.  He sailed with Matthew Flinders as a kind of mediator between English colonists and Aboriginal people, becoming the first Indigenous person to circumnavigate Australia.
Bungaree's impact on colonial life is now being celebrated in an exhibition called Bungaree: the First Australian at the Mosman Art Gallery from September 1 to November 25. The exhibition is a response by contemporary Aboriginal artists to the historical figure of Bungaree.
Bungaree was central to life in colonial Sydney including leadership of his community. He established himself as an important identity on his own terms and was acknowledged for his intelligence, character, sense of humour and flamboyance and regularly dressed in a succession of military and naval uniforms that had been given to him.
Led by renowned Aboriginal curator Djon Mundine OAM, 15 Indigenous artists were invited to create new works to acknowledge and interpret Bungaree's life and story, addressing the continuing dilemma of living between conflicting world views.
Djon says the exhibition offers an Indigenous perspective on the impact of early colonial society through the personality of Bungaree – known as the 'King of the Blacks' and 'Chief of the Broken Bay Aborigines' and a central and sometimes controversial figure in early Sydney.
He says while Bungaree has been the subject of many written publications, his story has not previously been critically examined in the context of contemporary Australian visual arts, or from an Indigenous perspective.
"Bungaree's prominence as a subject in early Australian art and portraiture (greater in number than any early governor) includes being the subject of the first lithograph produced in Australia," Djon says.
Various governors and colonels gave Bungaree discarded uniforms and a cocked hat and he lived and slept in them. He affected the walk and mannerisms of every governor from John Hunter to Sir Thomas Brisbane and perfectly imitated every conspicuous personality in Sydney. He spoke English well and was noted for his acute sense of humour.
"He often took a humorous approach – poking fun at the white people, but they got it too. He was poking fun at authority and white colonial Australians loved that Bungaree was poking fun at the Governor and the upper classes."
Djon says Bungaree represents a 'third approach' by Aboriginal people in dealing with the affects of colonisation, which he says Aboriginal people are still dealing with.
"The whole idea of this exhibition is to start a discussion. What are we doing? How do we live our life? We are still recovering from that time but we have to reconstruct something now. Do we want to be suburban people – white people with a nice tan? Or be active participants? Rhoda Roberts said what makes us Aboriginal now is the artworks and the dance and the culture. We may be good at playing football but what makes us different is the art we express," he says.
"After the experiences of Aboriginal society in dealing with the arrival of Europeans by Bennelong (through diplomatic means) and Pemulwuy (through active warfare), the story of Bungaree represents a third approach in coming to terms with the monumental shifts in power, control and identity faced by Aboriginal people then (and now).
"He was able to walk in the two worlds and there is no reason why people shouldn't be able to do that. Migrant people do that. They move back and forth between their historical way of life and living in this place. Many people take a cultural framework with them – concepts about how to feel the sacred landscape but they live in the here and now."
Djon says it is interesting to have the exhibition in Mosman, which is where Bungaree was granted a farm by Governor Macquarie in 1815 (at George's Head, Georges Heights).
"He used to live there so it is funny how it has become a white bourgeois suburb. But people think Aboriginal people only lived here or there – but we owned the whole country, so there would be an Aboriginal presence in most places in Australia and we should be aware of that and take it on board," he says.
After a long illness, Bungaree died on 24 November, 1830 and was buried at Rose Bay. A portrait of him by Charles Rodius hangs in the Public Library of NSW
The artists represented in this exhibition include: Frances Belle Parker, Mervyn Bishop, Daniel Boyd, Karla Dickens, Fiona Foley, Adam Hill, Warwick Keen, Gary Lee, Peter McKenzie, Danie Mellor, Caroline Oakley, r e a, Gordon Syron, Leanne Tobin and Jason Wing.
The exhibition runs at the Mosman Art Gallery,  cnr Art Gallery Way and Myahgah Road, Mosman, NSW until November 25 in Sydney and then tours nationally until 2015.
For more information check out the gallery at www.mosmanartgallery.org.au