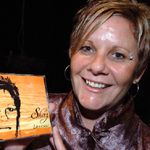 Sharon Lane and Naomi Wenitong have just been added to the line up for the Whichway Regional Music Development program to be held later this month in Dubbo.
Sharon Lane has been performing the majority of her life, her unique story and powerful vocals earning her attention from the Deadly's and the Tamworth's TIARA Awards.
Originally from Dubbo, Sharon will share her experiences in the industry and host a song-writing workshop with hip hop artist Naomi Wenitong.
Naomi Wenitong is one third of hip-hop trio The Last Kinection and shot to stardom with duo Shakaya.
Naomi' recovery from an horrific car accident has been truly inspirational and she brings a lifetime of experience to the week thanks to her time with Shakaya and work with both major and independent record labels.
Naomi and Sharon will be joining Michael Hutchings and Rob Scott (Gadigal), Stacey Piggott (Fish out of Water Publicity) Vicki Gordon (VGM Management), Adriana Rios (The Last Kinection/Black Chilli Productions), Rob Collins (Starboard Cast/APRA) plus a host more over the 5- day intensive music development program.
The Whichway Regional Music Development program will be held from March 23 to March 27 at the Yarradamarra Centre at the Western Institute of TAFE, Dubbo Campus.
Expressions of interest are still being taken for the 5-day intensive workshop, and should be forwarded to [email protected] or by phone on 02 96 99 97 06 no later than a week before.
Whichway is a project of Music NSW, funded through Arts NSW, to assist in the development of the Indigenous music industry. This project is supported by the Australian Government through the Indigenous Culture Support Program of the Department of the Environment, Water, Heritage and the Arts (DEWHA).