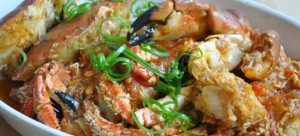 Originally from Cherbourg in Queensland, Andrea Collins is a respected community leader in the Nhulunbuy region of the Northern Territory. She was also a talented sportswoman, representing Queensland in basketball and managed the Aboriginal and Torres Strait Islander woman's basketball tour of Canada and the US in 1988.
INGREDIENTS
 1 tablespoon butter
 Dollop of cooking oil
 Chopped red chilli, to taste
 1 cup garlic cloves
 1 cup diced red onion
 2 cups finely chopped lemongrass
 1/2 cup chopped red or green capsicum
 1 cup chopped shallots
 2 large teaspoons Green Thai Curry Paste
 2 tins coconut milk
 2 x Mud Crabs, cut into quarters (meat with shell) and break off claws
 Cooking oil
 1 tablespoon butter
 1 teaspoon chopped garlic
 1 teaspoon chopped ginger
 2 lemons, zest and juiced
 1/2 cup chopped red or green capsicum
 1 cup chopped shallots Salt and pepper
METHOD
1. To make the sauce…
Place butter and cooking oil in a semi-hot large saucepan. Add chilli, garlic, red onion, lemongrass, capsicum and shallots. Cook, stirring slowly, for 3-4 minutes or until onions are slightly brown. Reduce the heat and add green Thai curry paste and stir. When the mixture has thickened, add 2 tins of coconut milk and reduce the heat to a simmer. Take off the heat and set aside until the crabs are cooked.
2. To cook the crabs…
Heat some oil in a wok. Add butter, garlic and ginger, then put in the crab quarters, shell, claws and all. Stir and cook until shell is red/orange colour and flesh is cooked. Add lemon juice to cooked crab meat. Cover while cooking to steam the meat if required.
3. Add cooked crab to pre-made chilli sauce in pan and heat slowly. Sprinkle finely chopped capsicum, lemon rind, red chilli and chopped shallots on top of dish and serve.