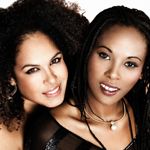 Deadly Vibe Issue 142
Following a successful tour earlier this year, two of our most pre-eminent songstresses are hitting the road once more for a very special cause.
Christine Anu and Deni Hines are well-known as two of Australia's most successful female artists.
Both of these supremely talented soul sisters have been writing, performing and producing hit music for close to 20 years, and with a combined list of iconic songs such as Sunshine on A Rainy Day, My Island Home, That Word and Ain't No Sunshine, both have had huge impacts on the Australian music scene.
Despite being huge stars in the same industry, the two have never worked together in the past. But fans of the two were in for a real treat recently, with Christine and Deni coming together for the first time ever on a special tour of Australia's east coast.
"We've sort of been like ships passing in the night," says Deni. "I met Christine several times in Melbourne, but we really connected in London when I was over there recently.
"We were on the same label and I met her and just sort of showed her around London for like a week. I remember I liked her hairstyle!"
Christine was singing and dancing along to Deni's songs long before she signed her own record deal, and so the chance to sing some of those hits with Deni has been a huge buzz.
"There is certainly a lot of revering of each other in this whole collaboration" says Christine. "You can hear great things about someone, but when you're actually standing on stage next to them and you're seeing them in their element it's quite another thing.
"All of a sudden you start to smarten up your game and I think that's the difference between working by yourself and collaborating with another artist – you can't afford to be sloppy."
Having previously been involved with several successful collaborations, most recently with jazz legend James Morrison, Deni has also enjoyed and made the most out working with a fellow female artist.
"It's great to sing with a female singer, and a good female singer at that," Deni says. "Sometimes when you're doing this as job it's nice to have a challenge.
"I find that sometimes she makes me aim higher, you know? She'll hit a note and I'll literally feel like I've got to drop the microphone and walk off the stage – like, okay, you got me!"
The two also share strong musical sensibilities, and having grown up on a similar musical diet of rhythm and blues, jazz, soul, hip hop and reggae influences among others, the two make for a perfect melting pot of complimenting styles and genres.
"The songs that we love are very much the same," Christine says. "It's great to have somebody who you can say, 'oh my god tidda, check this out', or 'have you heard this?'"
While promoting their tour earlier this year, Christine and Deni were preparing to perform the Doobie Brothers hit Takin' it to the Streets on Channel Seven's The Morning Show when the program featured a sad story on the plight of the homeless in Australia right before the girls were due to come on.
"Deni pointed out that the song we were about to sing was written about the homeless," Christine says. "We suddenly both realised that we were in a position to be using our profile to give the homeless a voice."
The girls decided to hit the road once more, to help promote the plight of the homeless. They also agreed to release a special single of Takin' it to the Streets in time for Christmas, with half the proceeds going to the Salvation Army.
"This is something really important to me," says Deni, who has long been involved with charity work. "Now rather than just saying I want to do something I can actually do something to make a little bit of difference, which is really cool."
The Takin' it to the Streets tour kicks off on December 27, and will see the girls touring NSW, Victoria, South Australia and Western Australia and visiting many regional and country centres along the way.
For more information go to www.myspace.com/deniandchristine