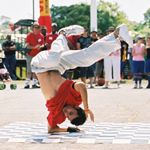 Not even the threat of a cyclone could keep the community of Gladstone from coming out in force for the Vibe 3on3™.
The good vibes just keep on spreading across the country, with the Vibe 3on3™ stopping off at the community of Gladstone in northern Queensland on the weekend of March 25 and 26.
Gladstone marked the second Vibe 3on3™ in one month to be held in a brand new location. The first weekend of March saw the Vibe crew hitting the town of Taree, with overwhelmingly positive results. And so the team was all fired up for another two days of high-energy fun when they landed in Gladstone.
They weren't to be disappointed. The community had pulled out all the stops to ensure that the Gladstone 3on3 was one of the most successful to date, with more than 80 teams turning up at Kev Broome Stadium to take part.
"March was a terrific month for the Vibe 3on3™, with Taree producing huge participation numbers and now Gladstone topping it off with great local support as well," says a chuffed Claude Williams, Vibe's 3on3 coordinator.
"There was some outstanding basketball talent on show, and the beat boxing and dance performances were some of the best we've seen."
Despite threats of inclement weather due to a spate of cyclones, the sun obviously didn't want to miss out on all the fun, keeping rain at bay and non-stop basketball action on tap.
"For a first-time event, Gladstone exceeded our expectations," Claude says, "There is no doubt we will be returning.
"A special thank you must go to Cedric Williams, who chaired the local organisation committee, and thanks also to Janelle Gilmour from the Kev Broome Stadium and Tracey French of the Gladstone PCYC."
The Vibe 3on3™ is a two day Aboriginal youth weekend festival that incorporates basketball, dancing, art, culture and health. We aim to promote healthy lifestyles, strengthen communities and boost self-esteem. The Vibe 3on3™ is also an excellent opportunity for health services and related organisations to introduce themselves to the wider community. For more information, go to www.vibe.com.au
The Vibe 3on3™ would not be possible without our sponsors Rio Tinto Aboriginal Foundation, the Department of Health and Ageing through the Office of Aboriginal and Torres Strait Islander Health, the Department of Communications, Information Technology and the Arts and the Alcohol Rehabilitation and Education Foundation.
Local sponsors for the Gladstone 3on3 were Nhulundu Wooribah, Gladstone PCYC, Gladstone City Council and the Calliope Shire Council.



Boys U10
Black Knights
Julyess Jarvis (not in pic)
Matangi Blackman
Michael Philpot
Presenter: Aunty Neola

Girls U10
The Lasers
Jymeekah Blackman
Taneesha Ghee
Lona Sadam
Presenter: Dennis Conlon




Boys U12
3 Stooges and a Monkey
Cody Buchholz
Jackson Barnes
Jake Bailey
Jaiden Bremer
Presenter: Janette Yowyeh

Girls U12
Iles
Sharisse Rankin
Mele Ngalu
Alani Ngalu (not in pic)
Melissa
Presenter: Luke Carroll

Boys U14
The Crew
Nick Honoul
Cameron O'Grady
Kyle Druidd
Presenter: Cedrick Williams

Girls U14
The Slam Dunks
Emma Aeshlimann
Malinda Aeshlimann
Rebecca Redgen
Presenter: Richard Geesu

Boys U16
Triple M
Michael Saltner
Michael Charles
Kyron Jusd Myles (not in pic)
Presenter: Ben Beezley

Girls U16
No Names
Lauren Donald
Shannal Saltner
Gertie Lyall
Presenter: Conrad Ingra

Boys U18
Sixers
Mike Burnes (not in pic)
Josh Duca (not in pic)
Dean Hutchinson
Darryl Hookey
Juran Johnson
Presenter: James Black

Girls U18
The Deadleys
Wendy Pickering
Sarah Pickering
Angela Adam
Katrina Anderson (not in pic)
Presenter: Aaron Nagas

Boys OPEN
Cudas
Aaron Nagas
Shane Brown
Nathan Druitt
Shane Prizeman
Presenter: Simon Wake

My Story Winner
Daniel Pickering
Annallie Knight

Rap Competition Winners Boys
Hawks
Presenter: Annallie Knight

Rap Competition Winners Girls
No Names
Presenter: Mayor Peter Corones
Break-off Competition Winners Boys
Horris Jones (1st)
Simeon Fairburn (2nd)
Jaleel Donald (3rd)
Presenter: Isaac Parsons

Break-off Competition Winners Girls
Hannah Geesu (1st)
Adriana Johnson (2nd)
Katisse Salam (3rd)
Presenter: Tammie Jarrett

Puggy Hunter Winner
Michael Charles
Presenter: Claude Williams

Best Team Card
Dungar Ginnies
Tegan
Sunita
Adriana
Emily
Presenter: Mayor Peter Corones