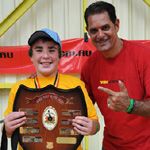 Excited students from Muswellbrook High School started their journey at 5am on Friday to travel to the Taree Vibe 3on3® where they were among 400 other young people who participated in the event.
Taree hosted schools from across the Manning Valley and beyond in a day of hip hop, basketball, art, hockey, dancing and creative learning.
Penrith Panthers star Maurice Blair was inundated with fans as he took groups aside for a few yarns about how important it is to lead a healthy lifestyle.
Two-time Olympian Nova Peris was a big hit, passing on messages about the importance of good nutrition and keeping active while showing her skills in hockey that have seen her become the first Indigenous person to win Gold at an Olympics.
"This was the best Vibe 3on3® in Taree," producer Mayrah Sonter said.
"Our celebrity role models were awesome; they were a real hit with the young people and, I think, really inspired some.
"Giving young people the opportunity to talk one-on-one with people like Maurice Blair, Nova Peris and former Harlem Globe Trotter Dwayne Cross is a great way to encourage goals and dreams."
Opened by Dangga Marrung Dancers and representatives of the Biripi people, the day included art classes, three-on-three basketball games, Indigenous games and hip hop workshops.
Other dignitaries included the Federal Member for Lyne, Robert Oakeshott MP, who dropped in and Greater Taree City Council Deputy Mayor David West who presented to winners of events.
Local sponsors Biripi Aboriginal Corporation Medical Service and Greater Taree City Council worked tirelessly to ensure the health expo was successful, and more than 800 sausages and 40 kilograms of onions were cooked up for the day and night barbecues.
The next event on the Vibe 3on3® calendar is Broome on 8 May 2010. Teams are registering now to be part of the program that aims to promote healthy lifestyles, strengthen communities and boost self-esteem.
There are still opportunities for health services and related organisations to be part of the Broome Vibe 3on3®. For more information go to www.vibe.com.au
The Vibe 3on3® would not be possible without sponsors the Office for Aboriginal and Torres Strait Islander Health; the Department of Health and Ageing; Rio Tinto Aboriginal Foundation; The Jimmy Little Foundation and the 'Thumbs Up' Healthy Tucker Program; and Vibe Australia. Media partners include the Koori Mail, Deadly Sounds and Deadly Vibe.