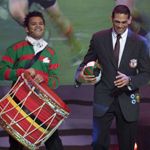 A Night to Remember
At the very outset, it was clear that the 2007 Deadly Awards were going to be something special. From the moment some of our 1967 Referendum heroes – Lester Bostock, Harriet Ellis, Dulcie Flower, Naomi Mayer, John Moriarty, Christine Mumbler and Hazel Wilson – took to the stage to a standing ovation, the feeling in the Sydney Opera House Concert Hall was one of jubilation and pride. Standing before the audience was living proof that, no matter what the obstacle, we as a people can stand together and triumph over adversity.
Music has always been a big part of the Deadlys – indeed, the Deadly Awards started out in 1995 as an Indigenous music award ceremony. So it's always exciting to see what the musical line-up will be.
This year the awards paid tribute to some of the legends of Indigenous music, which included a haunting rendition of My Island Home, played on a gum leaf by Herb Patten, and an emotional lifetime achievement award presentation to Jimmy Little.
The gorgeous Jessica Mauboy knocked everyone's socks off with her performance of Gypsy in My Soul – a number that gave her the opportunity to show off some truly astonishing vocal talents. Warren H. Williams and Nabarlek also had the crowd dancing in the aisles, and vocalists Casey and Emma Donovan, Lou Bennett, Michael Tuahine and Kutcha Edwards joined in for a full-on, sing-along finale featuring the anthemic song Land Down Under.
There was also a special Bunnies moment, when South Sydney Rabbitohs' Buddy Gordon, Germaine Paulson, Joe Williams and David Peachey were paraded onto the stage – accompanied by dancing girls, fireworks and a drumming Luke Carroll – to a spectacular rendition of Glory Glory to South Sydney.
But the real reason for the Deadlys is the awards. This year's nominees were among some of the most accomplished and inspirational in Deadlys history. If only each and every one of them could have gone home with their very own Deadly on the night. But as always, you guys out there had your say, and the winners on the night were all humbled and proud to be recognised by their community for their achievements and hard work.
| | |
| --- | --- |
| Narbarlek | Referendum heroes |
| TI Dancers | Christine Anu with the TI Dancers |
| Rabbitohs | Deadlys host Luke Carroll |