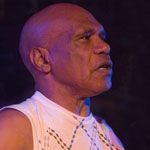 More than 1000 people attended the 2008 NAIDOC Ball at the Canberra Convention Centre last night and were entertained by some of the nation's best Indigenous performers.
The sweet sounds of Jessica Mauboy, Casey Donovan, Archie Roach, Blue King Brown and Dave Huddleston and the Riverbank Band delighted the audience as well as the talents of Mary G, Leah Purcell and Ernie Dingo.
Organisers say a record number of nominations were received for this years event.
Award winners on the night included:
Person of the Year: Associate Professor Colleen Hayward (Perth)

Apprentice of the Year: Amy McQuire (Canberra via Rockhampton)

Lifetime Achievement: Joseph Elu AO (Seisia), Archie Roach (VIC), Dr Chicka Dixon (Sydney)

Youth of the Year: Angeline Blackburn (Canberra via Cann River), Krista Moir (Perth via Esperance)

Elder of the Year (Female): Carol Pettersen (Albany)

Elder of the Year (Male): Bob Muir (Rockhampton)

Scholar of the Year: Dr Karen Martin (Lismore via North Stradbroke Island)

Artist of the Year: Les Elvin (Cessnock)

Sportsperson of the Year: Stacey Porter (Sydney via Tamworth)
It was announced that Brisbane will be the focus city for National NAIDOC celebrations in 2009.