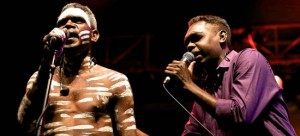 Showcasing the changing face and sound of Indigenous music in Australia, emerging QLD rock four-piece The Medics took out the top honours at the 2012 National Indigenous Music Awards. One of the country's most exciting young bands, The Medics released their debut album Foundations to widespread acclaim earlier this year and won NIMAs for Album of the Year, New Talent of the Year and Song of the Year for 'Griffin.'
Newly formed Arnhem Land band East Journey, who have been guided by Yothu Yindi's legendary Mandawuy Yunupingu, took out two highly contested awards. They won the NT Film Clip of the Year for the super stunning film clip 'Ngarrpiya', which was filmed around their home country in Yirrkala. East Journey also picked up the prestigous G.R. Bururrawanga Memorial Award for outstanding contribution to the NT music industry – which was proudly presented to the band by Mandawuy Yunupingnu on the night.
Cementing his position as the country's best regarded Indigenous musician, Gurrumul Yunupingu was named Artist of the Year for the second year in a row. Gurrumul's collaboration Bayini with Sarah Blasko also claimed Cover Art of the Year, a second NIMA for artist/designer Carlo Santone from Blue King Brown.
The Traditional Music Award was awarded to two different collaborations made for the Song People's Sessions CD series. Warren H Williams and the Warumungu Songmen and Shellie Morris and the Borroloola Songwomen have composed new arrangements with ancient languages to preserve language and stories to share with future generations.
Recognising a lifetime of achievement in the music industry, the 2012 NIMA Hall of Fame honoured the great Jimmy Little who was posthumously awarded for his pioneering work as an Indigenous and country music star. Legendary Arnhem Land rock stars Sunrize Band and ever popular NT act Lajamanu Teenage Band were also inducted into the NIMA Hall of Fame and celebrated with a return to the stage at the Awards concert.
The anthem of a generation, 'Black Boy', by the legendary Coloured Stone was given a contemporary edge when it was performed at the NIMAs, 28 years after it was released. Bunna Lawrie, a founding member of Coloured Stone, joined his son Jindhu, drummer and vocalist of The Medics, on stage for one of the night's most stirring moments.
The night was filled with unique sets including the highly anticipated East Journey who lived up to the hype with frontman Rrawun Maymuru and traditional dancers providing a spectacular show. Other highlights on the night included the world premiere of Warren H Williams and the Warumungu Songmen, crowd favourites Lajamanu Teenage Band, and a highly anticipated performance by triple j Unearthed winner Thelma Plum, who took to the stage with The Medics for their version of Bob Dylan's 'Blowin' in the Wind'.
2012 NIMA winners
NEW TALENT OF THE YEAR
The Medics
SONG OF THE YEAR
'Griffin' – The Medics
ALBUM OF THE YEAR
Foundations – The Medics
ARTIST OF THE YEAR
Gurrumul Yunupingu
HALL OF FAME
Dr James Oswald Little, AO
Sunrize Band
Lajamanu Teenage Band
NT FILM CLIP OF THE YEAR
'Ngarrpiya' – East Journey
Director/Producer: Naina Sen & Susan Marawili
G.R. BURURRAWANGA  MEMORIAL AWARD
East Journey
NT COVER ART OF THE YEAR
Carlo Santone
TRADITIONAL MUSIC  AWARD OF THE YEAR
Shellie Morris and the Borroloola Songwomen – 'Ngambala Wiji Li-Wunungu'
Warren H Williams and the Warumungu Songmen – 'Winanjjara'
NT SCHOOL BAND OF THE YEAR
NEAL Boys – Yirrkala CEC