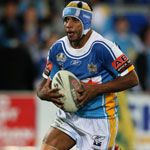 An amazing try saving tackle by Preston Campbell on a player 37 kilograms heavier handed the Gold Coast Titans a massive upset victory over the Sydney Roosters last night.
With the Titans leading by only four points in the dying minutes of the game, Campbell dropped his shoulder to bring down a charging Willie Mason before the line. Campbell then groggily regained his feet to make another tackle on Braith Anasta before being taken from the field with concussion.
Campbell was also instrumental in two of the Titans second half tries, but it was his courageous effort in chopping down Mason that dominated talk at the post match press conference.
"He smells when the danger's on," Titans coach John Cartwright said. "If he tackled like that every time, he would've retired seven years ago. When there's that crucial moment, he smells it and lines it up and leads with his head. He always brings them down – but he stays down as well."
The Titans win was just their second away from home this year and their first since captain and halfback Scott Prince's season was ended when his arm was shattered while playing for Queensland in Origin III.